Thandai Mawa Cake
Thandai mawa cake is infused with flavours of thandai and is a rich cake which taste like Indian Mithai (Indian sweets). Thandai is a sought over milk drink at Holi. Holi is one of the most popular festivals of India and is also known as the festival of colours and usually celebrated around March. Thandai is prepared with a mixture of almonds, fennel seeds, rose petals, melon seeds, cardamom, saffron, milk and sugar. Mawa is milk solids and it gives a luscious taste to this dish at the same time making it luxurious.
My children really enjoy the flavour's of Thandai hence I thought of using the same flavours and turning it into a cake. This cake is delicious, soft, and buttery. Traditionally, eggs are used in most cakes, but this cake is egg less. It is a one pot cake, where everything is mixed in one pot and baked. In India, Thandai powder or Thandai syrup are quite easily available in shops. However, I prefer to make it at home as it is a simple recipe and once you have the mixture ready you can make fresh Thandai anytime of the year.
You will notice that I have given the measurements for this cake in grams instead of in a cup. This is because I have tried this recipe several times and I get the best results when I have used the exact measurements in grams instead of using a cup.
Ingredients
Directions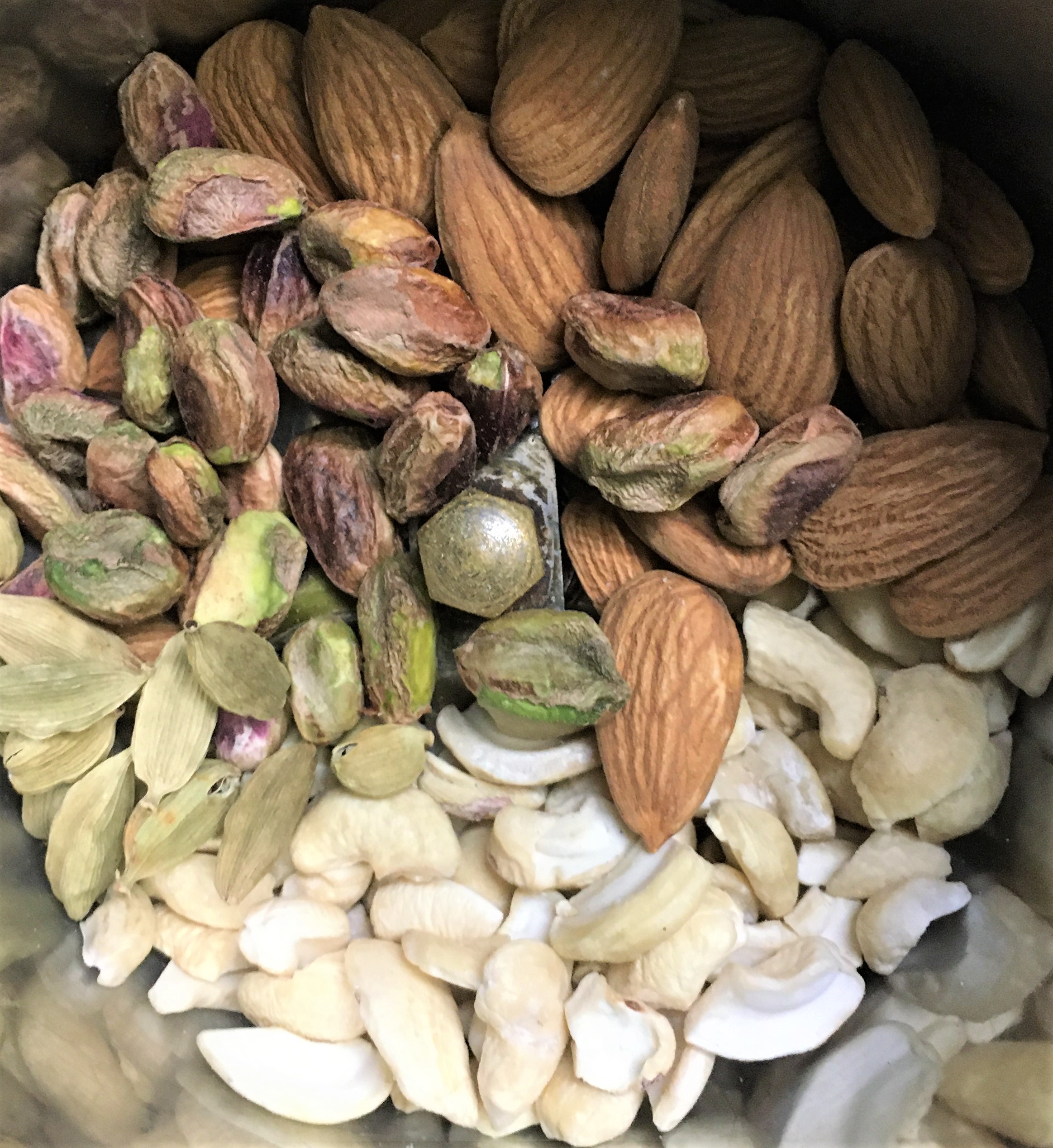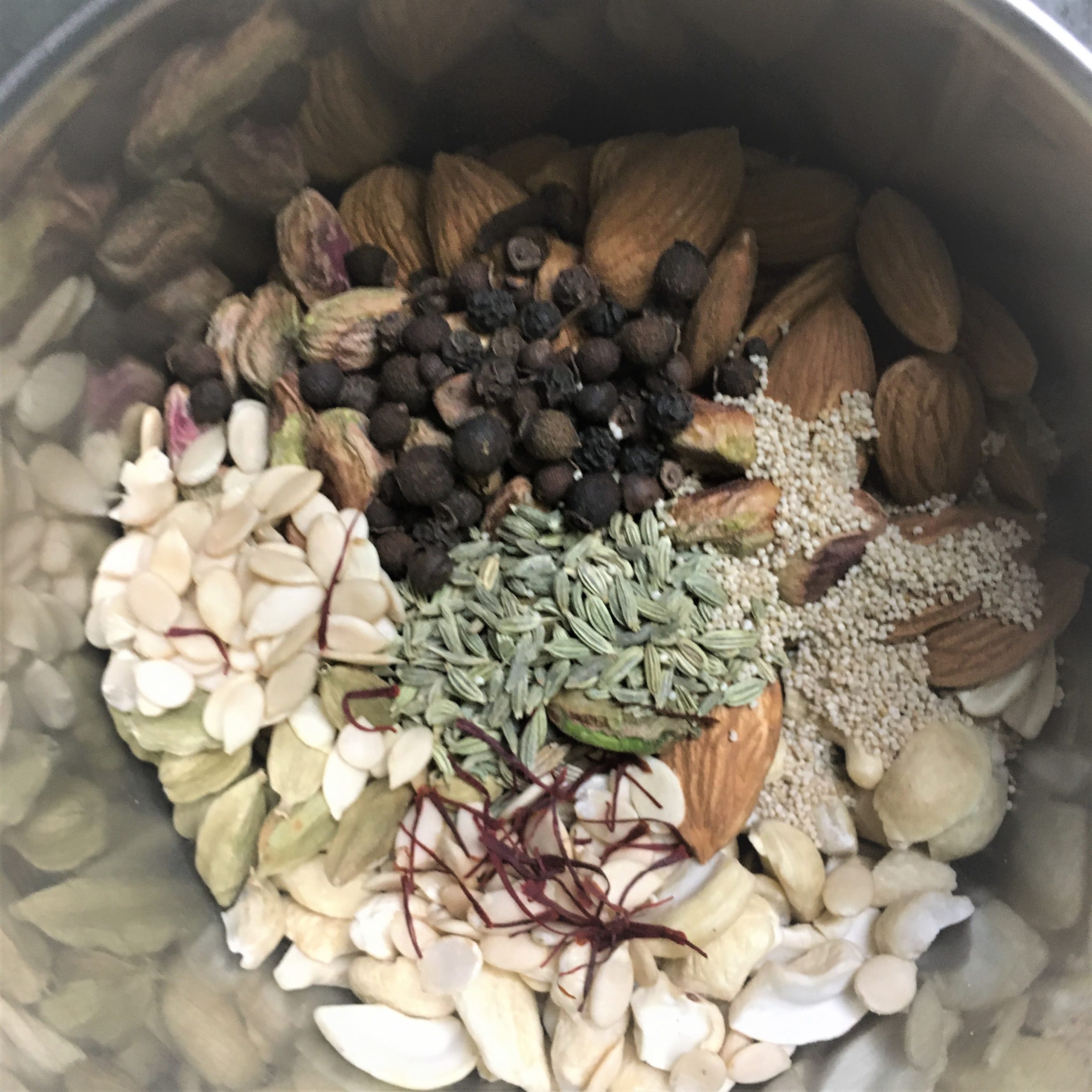 Thandai  Mixture
Mix all the ingredients in the bowl.  Then grind all the ingredients to a coarse powder in a grinder.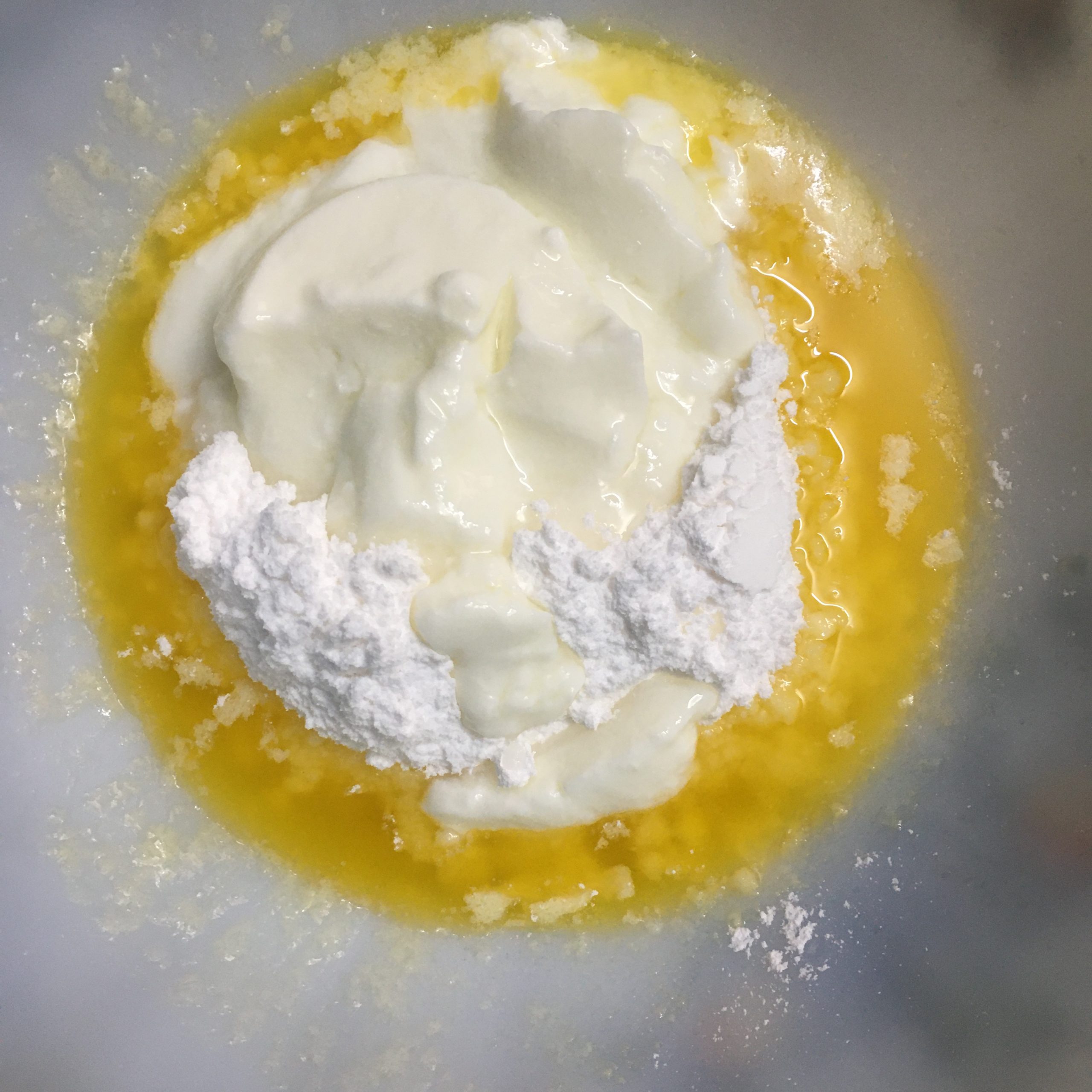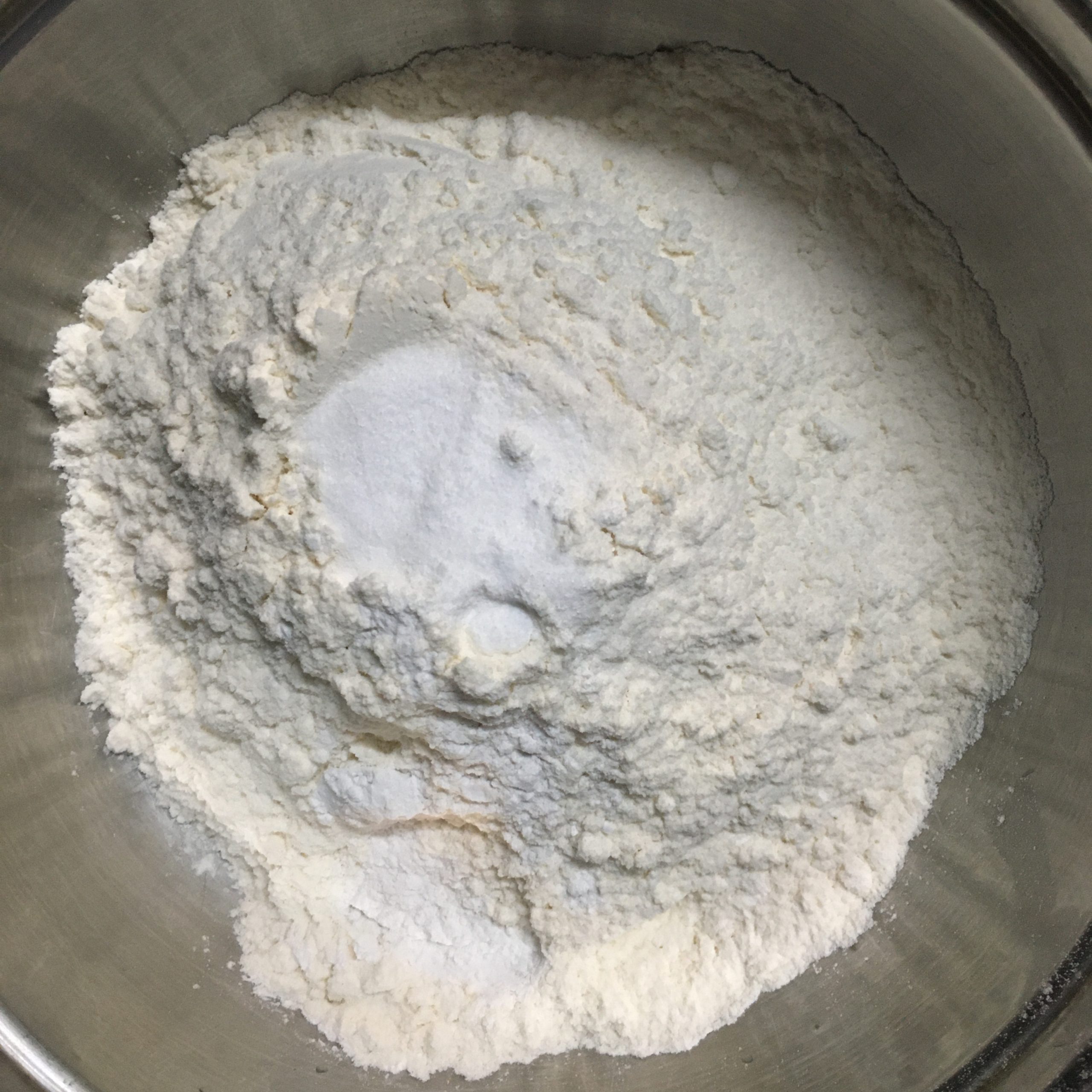 In a bowl mix butter, yogurt and sugar and whisk them well. Keep them aside.
In another bowl, sift plain flour, baking powder and baking soda twice.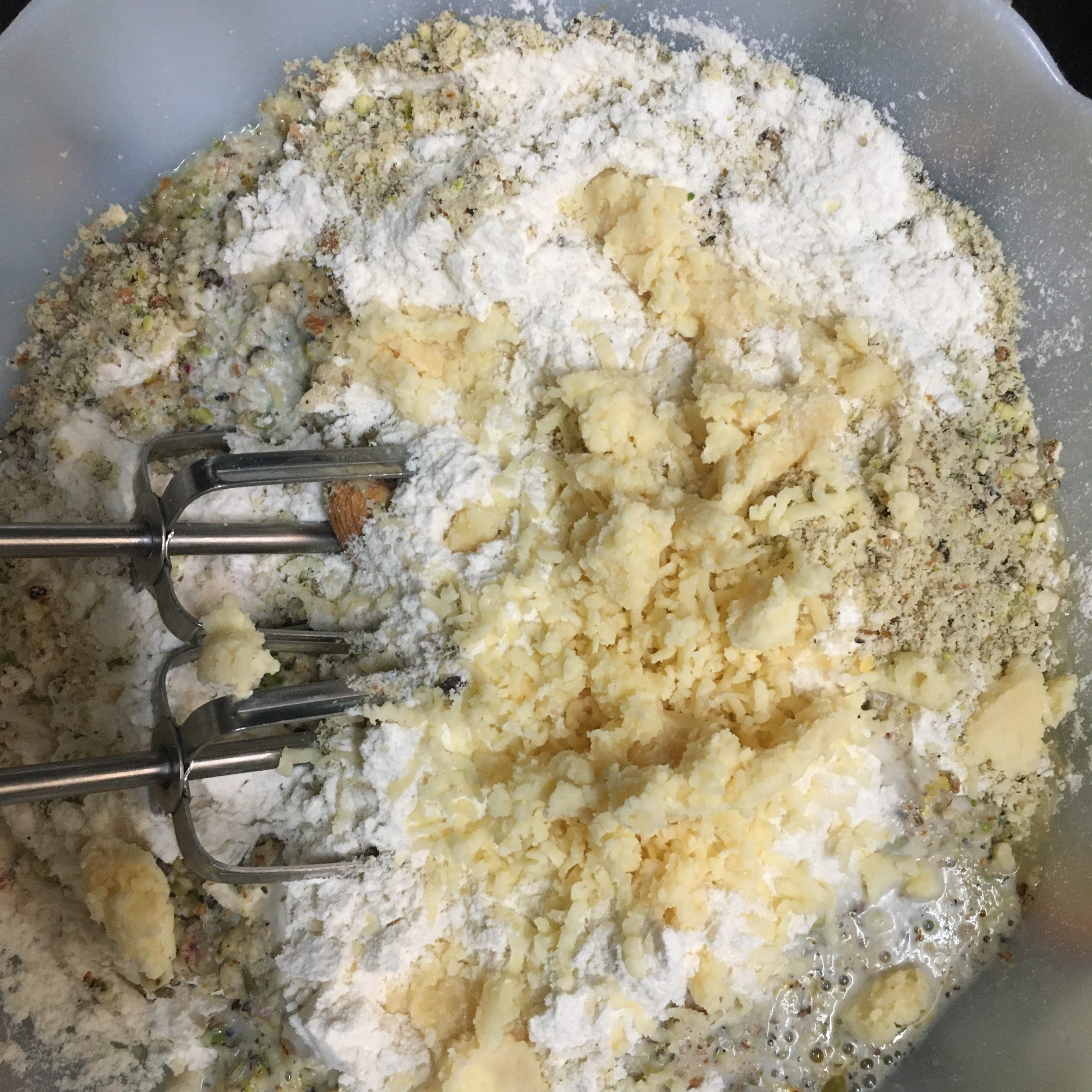 Mix the thandai mixture, flour mixture with the wet mixture and blend them well.
Next add mawa, milk, rose essence and lime juice to the mix and stir it well to make a smooth batter.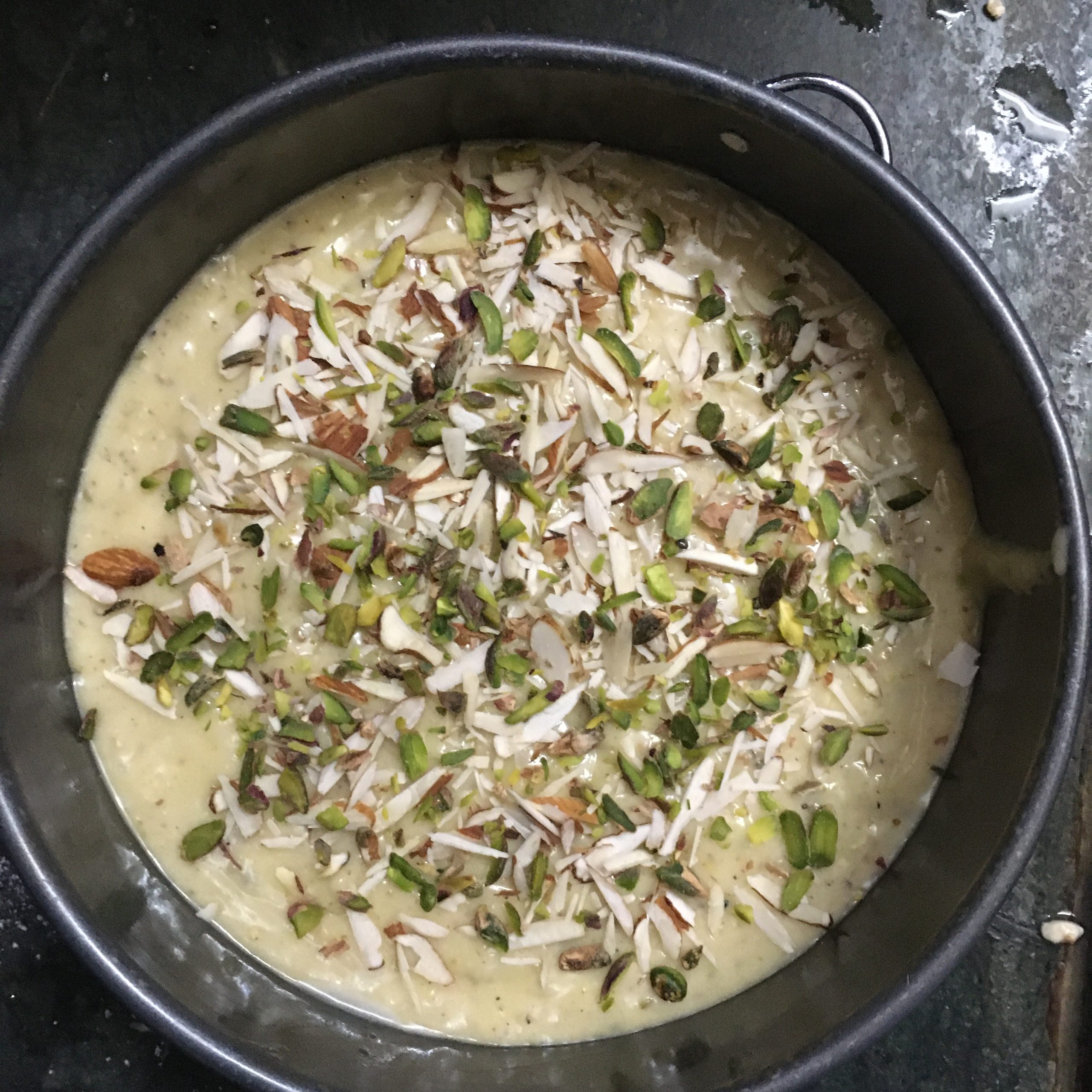 Line the baking tray with a parchment sheet and grease it lightly with butter. I have used 8 inches round tray for the cake. Transfer the cake mix to the greased baking tray. To level the cake batter tap the baking tray once or twice.
Top the cake with chopped  almonds and pistachios.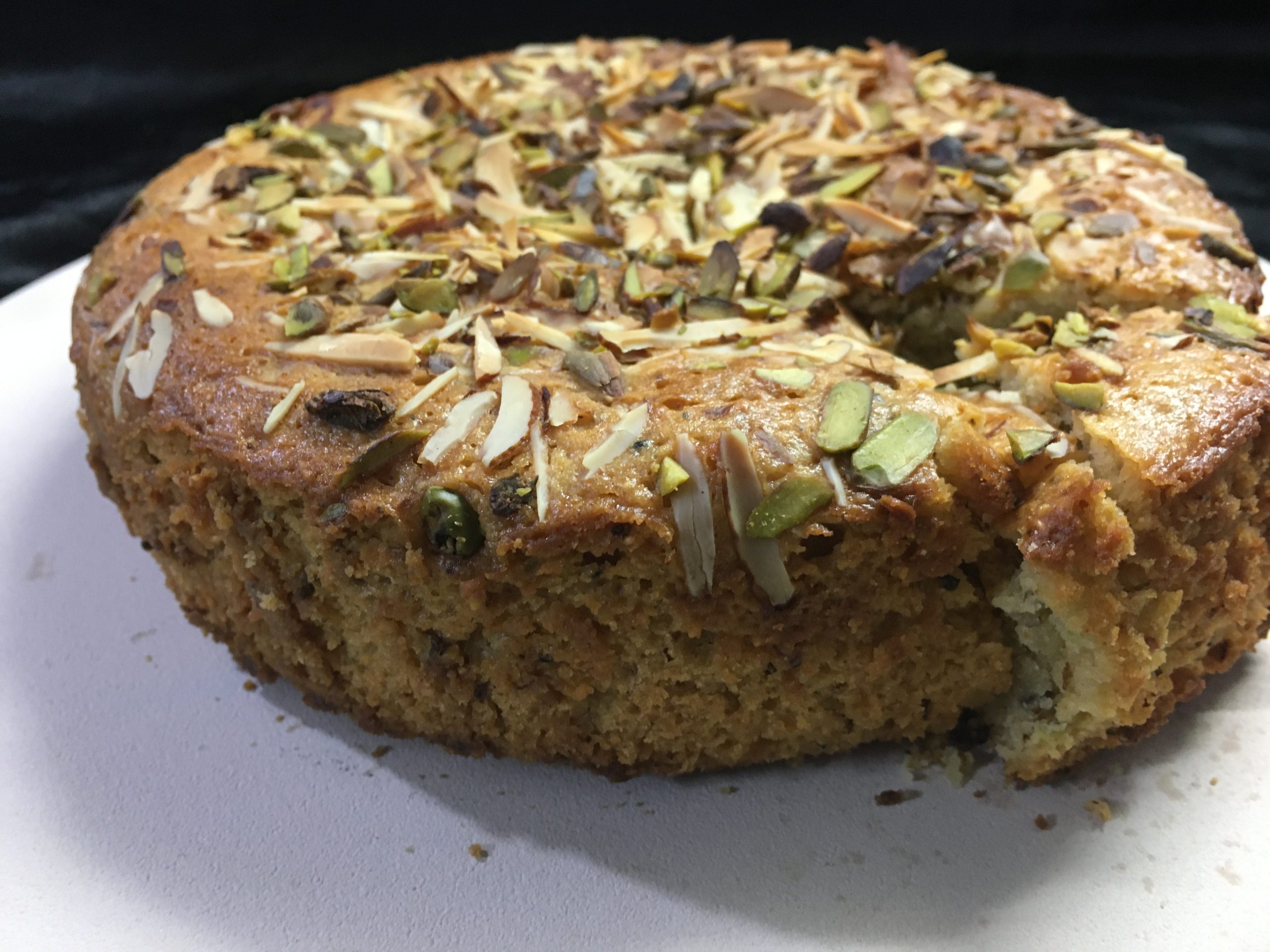 Preheat the oven to 180C/fan 160C/Gas 4.. Bake the cake for around 30-35 minutes. To check if the cake is ready take a fork or a cocktail stick or a skewer or a toothpick and use one of these items to poke the top of the cake slightly in the middle. If it comes up with some wet batter, crumbs or stickiness on it, the cake needs to bake some more and give it another 5 minutes. If it is dry, then the cake is done.