Mint Chutney/Green Chutney
Indian food is incomplete without chutneys.
If you have been to an Indian restaurant or anyone's home for lunch/dinner, you will always find green mint or coriander chutney as an accompaniment to starters. If you are relatively new to Indian cuisine, mint chutney is the green, tangy, spicy dip that accompanies the samosas or the poppadums' in Indian restaurants.
Mint chutney goes well with all kinds of Indian food like samosas, pakoras, paneer tikka, poppadums' and just as a side. This green chutney is cool, spicy and tangy at the same time. In Hindi, we call this Dhaniya Pudhina Chutney. 'Dhaniya' is coriander and 'pudhina' is mint.
I remember my mum always had this chutney in the fridge at all times. It is such a versatile thing to have in your fridge/freezer that even now I always have a stock of it, for those moments when you need an Indian snack fix. Most of the Indian appetisers are served with this chutney.
Every family/region/community have their own combination of ingredients they use to make this chutney.
I remember when I was young, my mother would ask the domestic help to make this chutney using the traditional method of 'sil-batta'. It is known as "sil-batta" in Hindi with 'sil' referring to flat stone and 'batta' referring to a cylindrical grinding stone. The batta is held in both hands and rocked over the food on the sil and the food is ground. It's a labour intensive work and it's been replaced by food processors. My mother would stand there while the domestic help would ground the chutney and keep tasting it to make sure there was right amount of lime and chillies in it. I loved using the sil-batta too and sometimes my mum would let me use it. The taste, texture of that chutney was different to the one we get using food processors. With time we all change and convenience kicks in and now even my mum uses food processor. (She still has the 'sil-batta' in her kitchen).
I remember growing up we used to enjoy green chutney sandwiches. They were made with slices of bread, butter, a good slather of green chutney layered with tomato, onion, cucumber.
Dare I say this mint chutney should probably be the one accompaniment you should learn how to make if you are keen to learn Indian food or make any Indian starters at home. It is so easy and delicious and no one can go wrong with this chutney.
Ingredients
Directions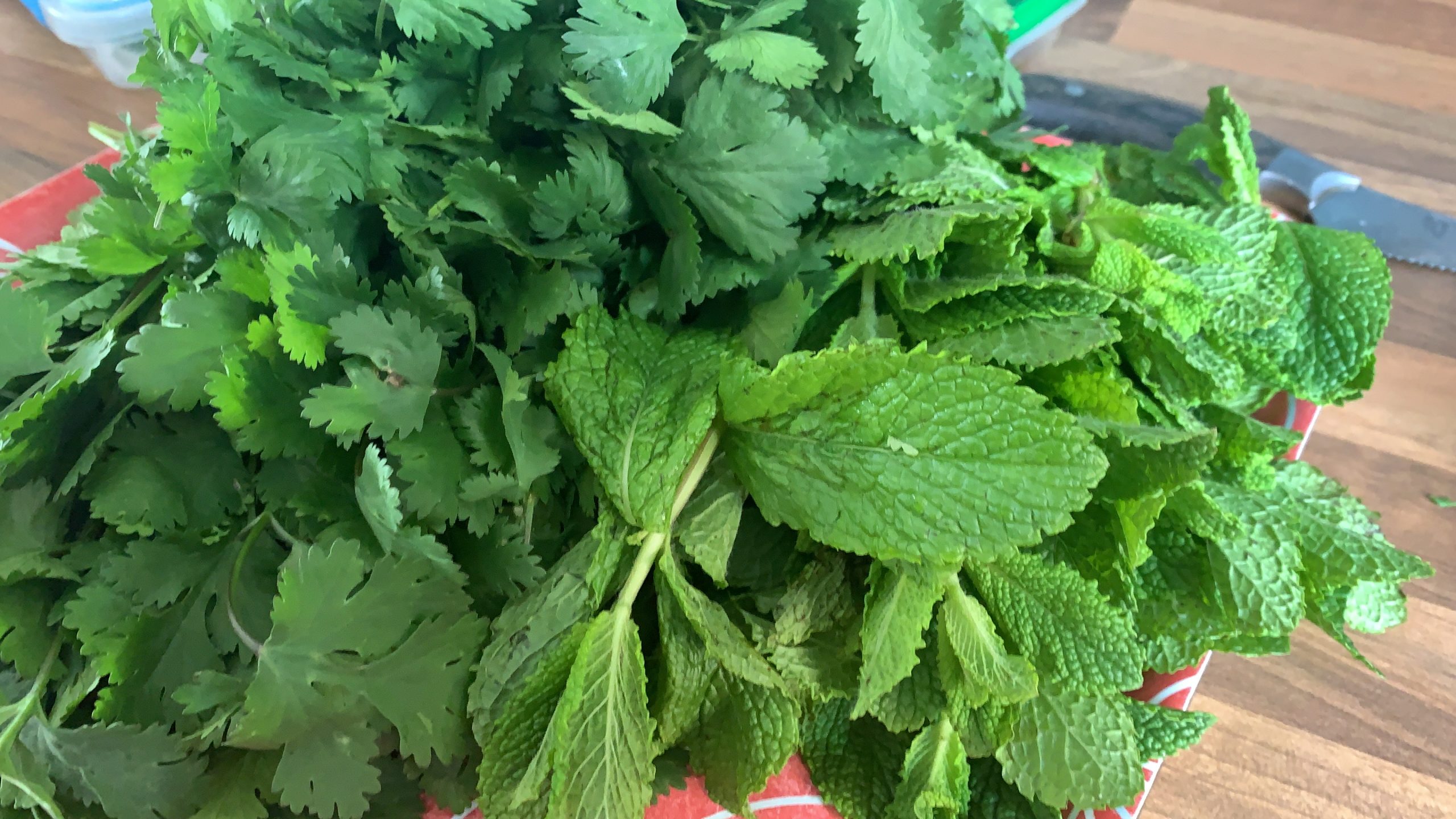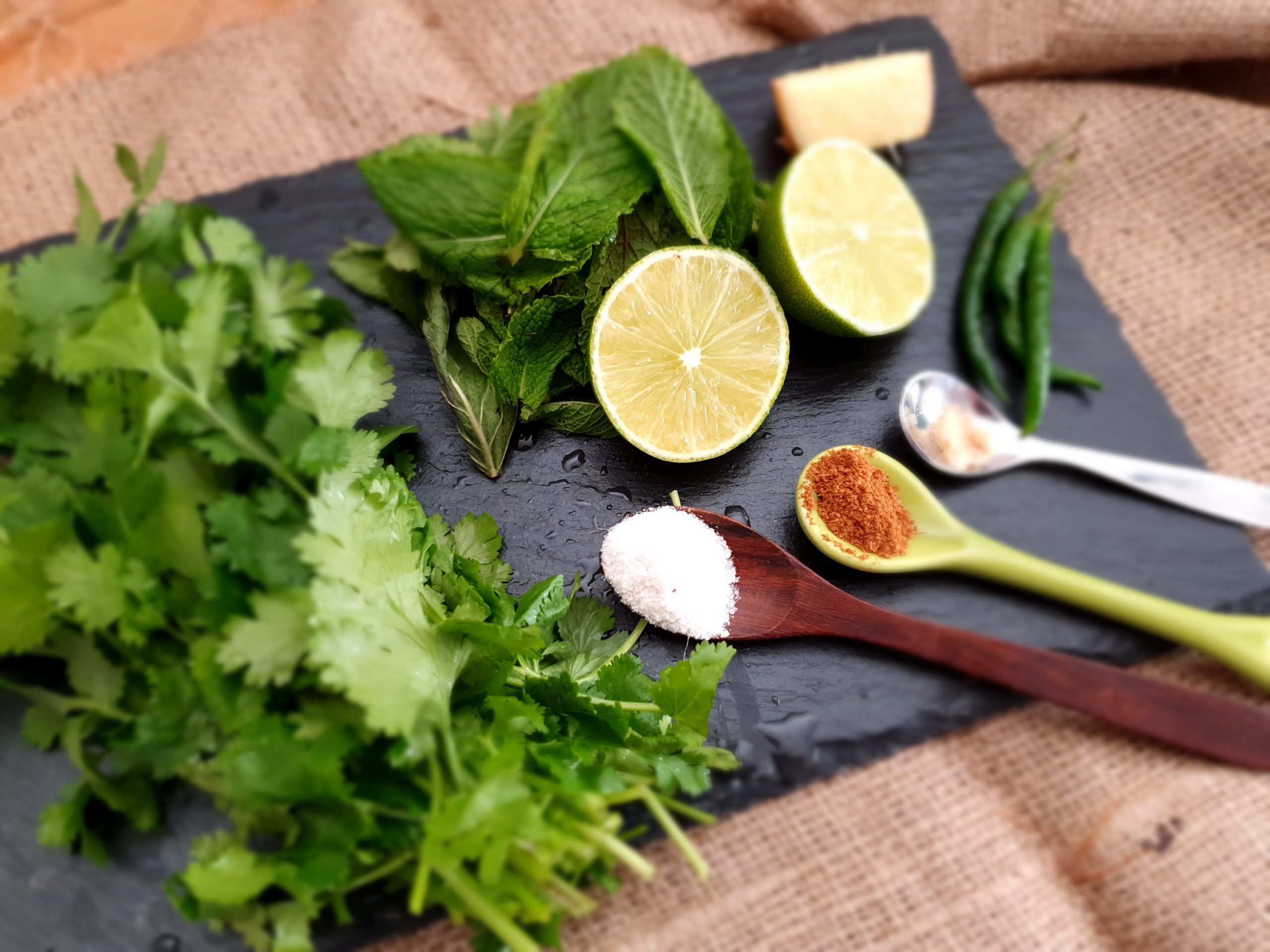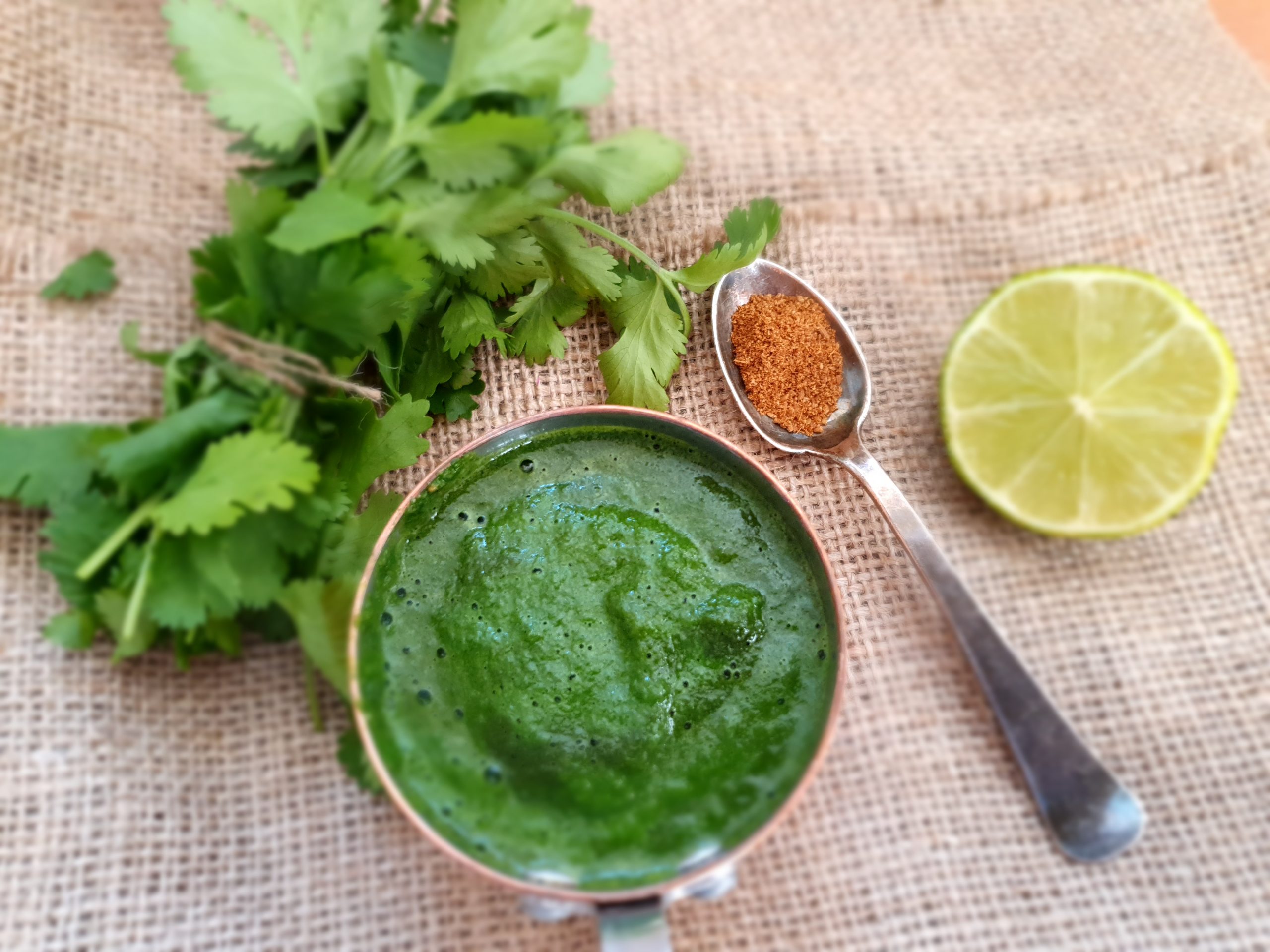 Clean the coriander and mint leaves under running water.  You can use the stalks of coriander BUT not for mint.
Add all the ingredients to the blender.
Blend at low speed until the ingredients start to mix, then increase the speed and blend to a smooth paste.  You might have to stop and stir the ingredients couple of times.
Chutney is ready.