Amritsari Kulcha
Potato stuffed crispy kulcha!
This recipe is named as 'Amritsari Aloo Kulcha' because Kulcha originated from 'Amritsar', a city in the Indian state of Punjab. Amritsar is famous for its Amritsari Kulcha, Amritsari Chole, and Amritsari naan.
My husband grew up in Amritsar and has some very fond memories of Amritsari food. His one of the favourite being Amritsari chole with Aloo Kulcha. Traditionally, 'Kulchas' are served with Chole. The 'Amritsari chole Kulche' combination is very popular and is served in many restaurants and street stall.
Kulcha is an Indian style flatbread made from plain flour, salt, sugar, (a leavening agent —usually baking powder), ghee/butter, and water/milk. What's special about Amritsari Kulcha is that it is filled with a mouth-watering potato filling and baked in tandoor/oven and is soft from inside and crispy on the top. The potato stuffing is what makes this dish unique. I have made this Kulcha often and served it with Raita at home and it is so moreish that you wouldn't stop at one!
Ingredients
Directions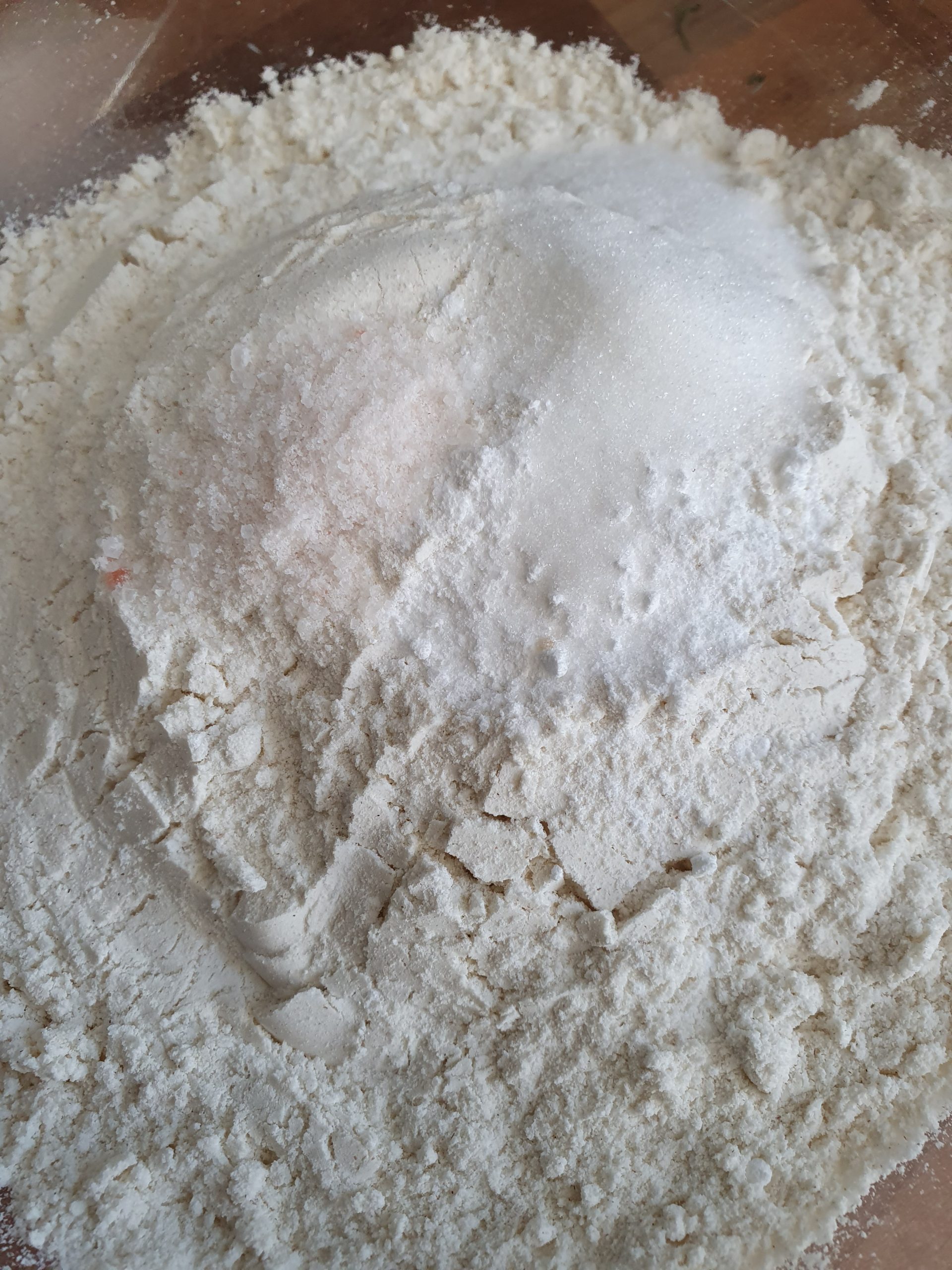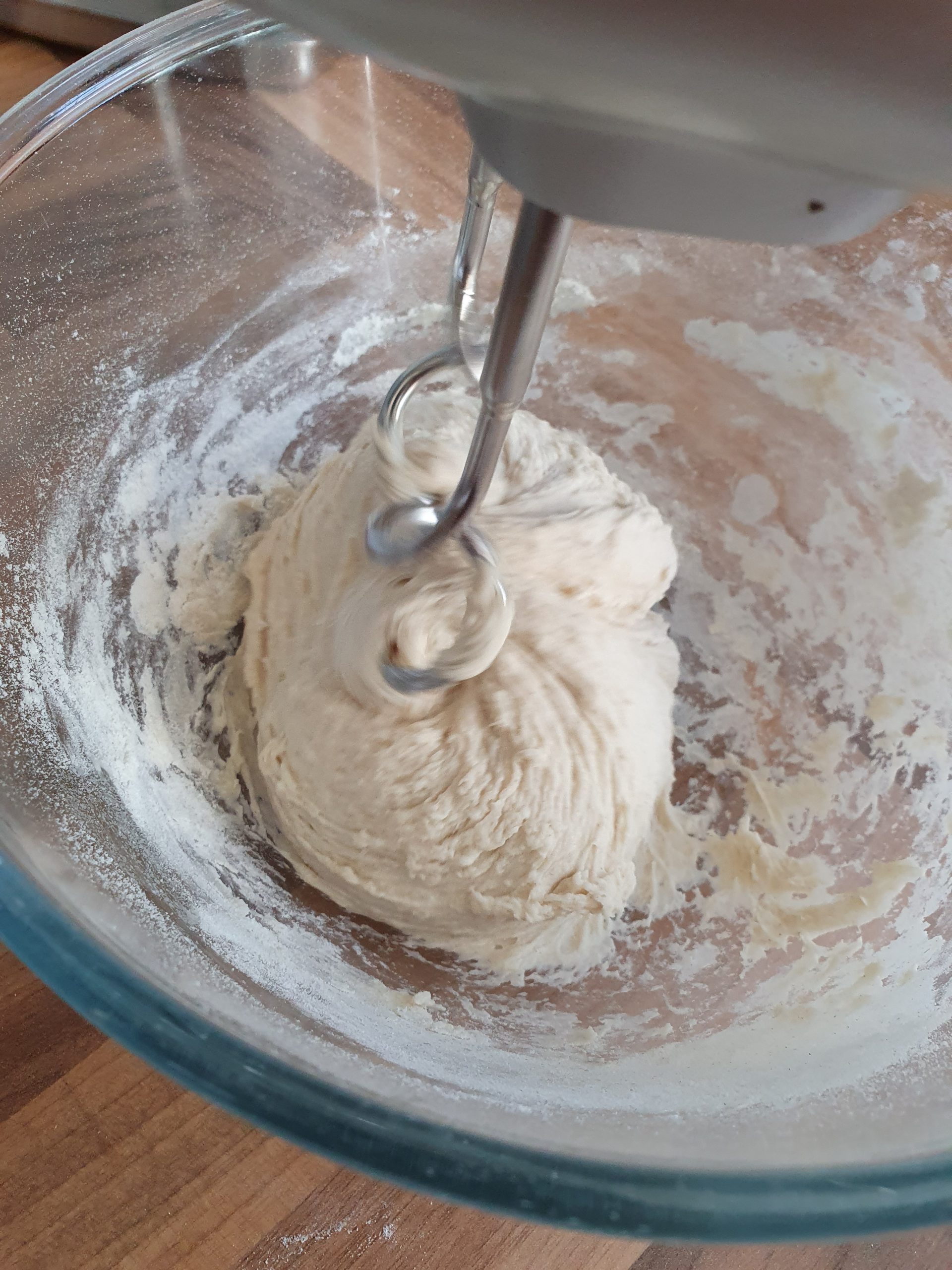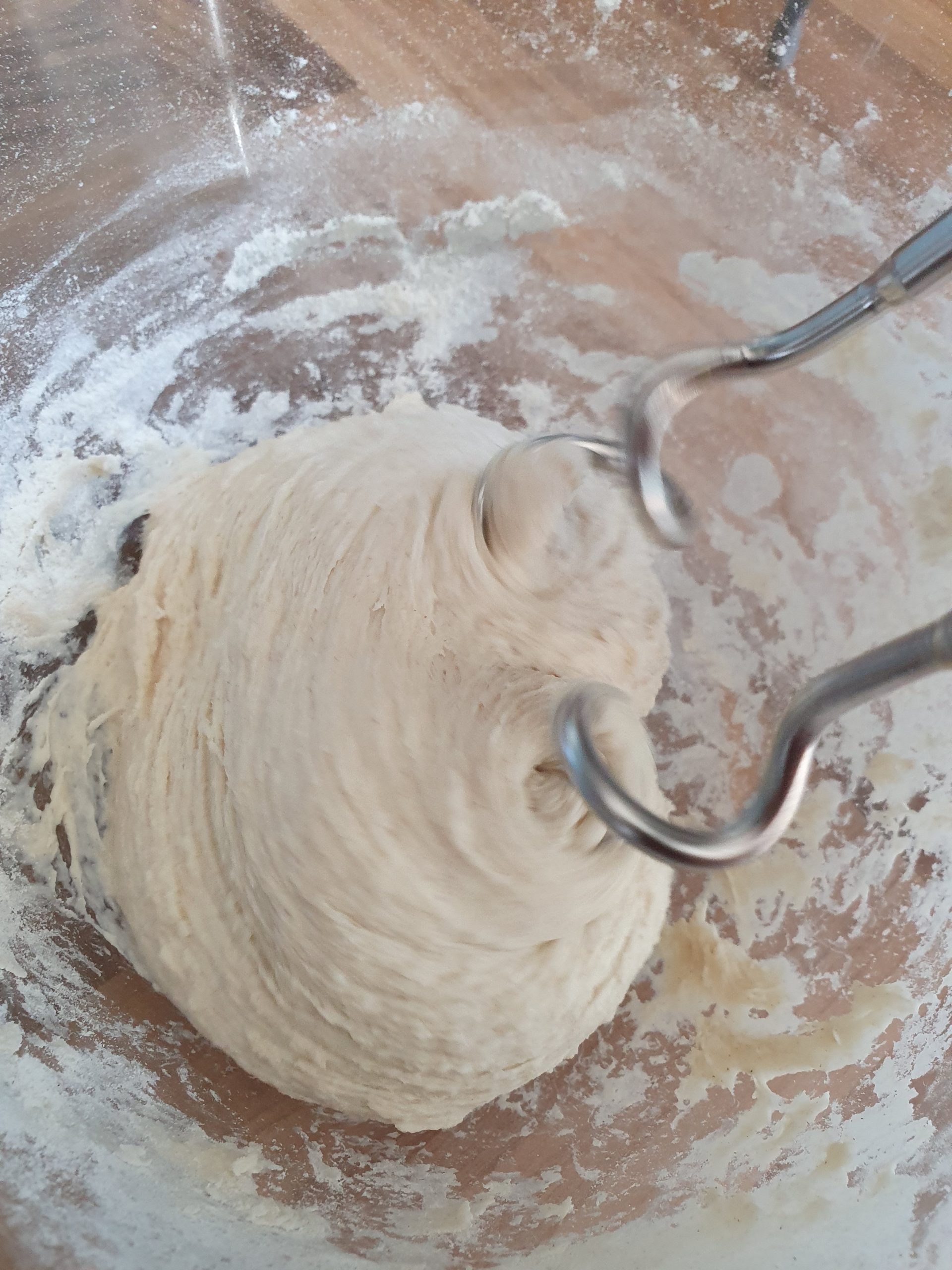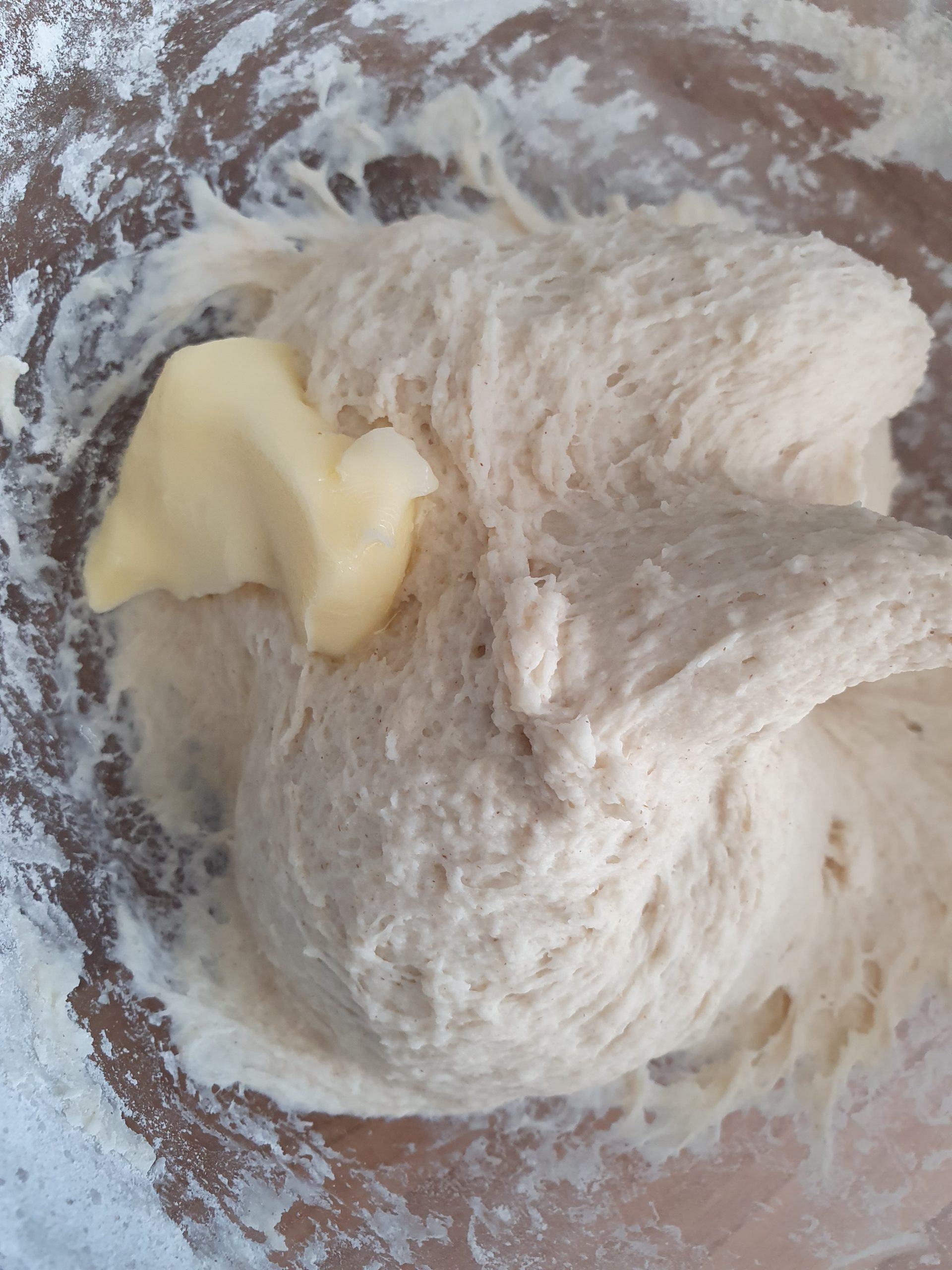 Combine plain flour, baking soda, sugar, salt, in a large mixing bowl.  
Add warm water slowly and knead into a soft and sticky dough. Make sure the dough is slightly sticky at this stage. 
Once all the ingredients have come together into a dough ball, add the ghee/butter, and knead for 3-4 minutes to incorporate the butter in the dough.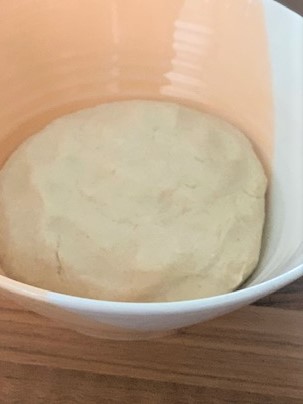 Cover the dough and set aside for 30 minutes. 
Once the dough is rested for 30 minutes, transfer it to flat plate/work surface.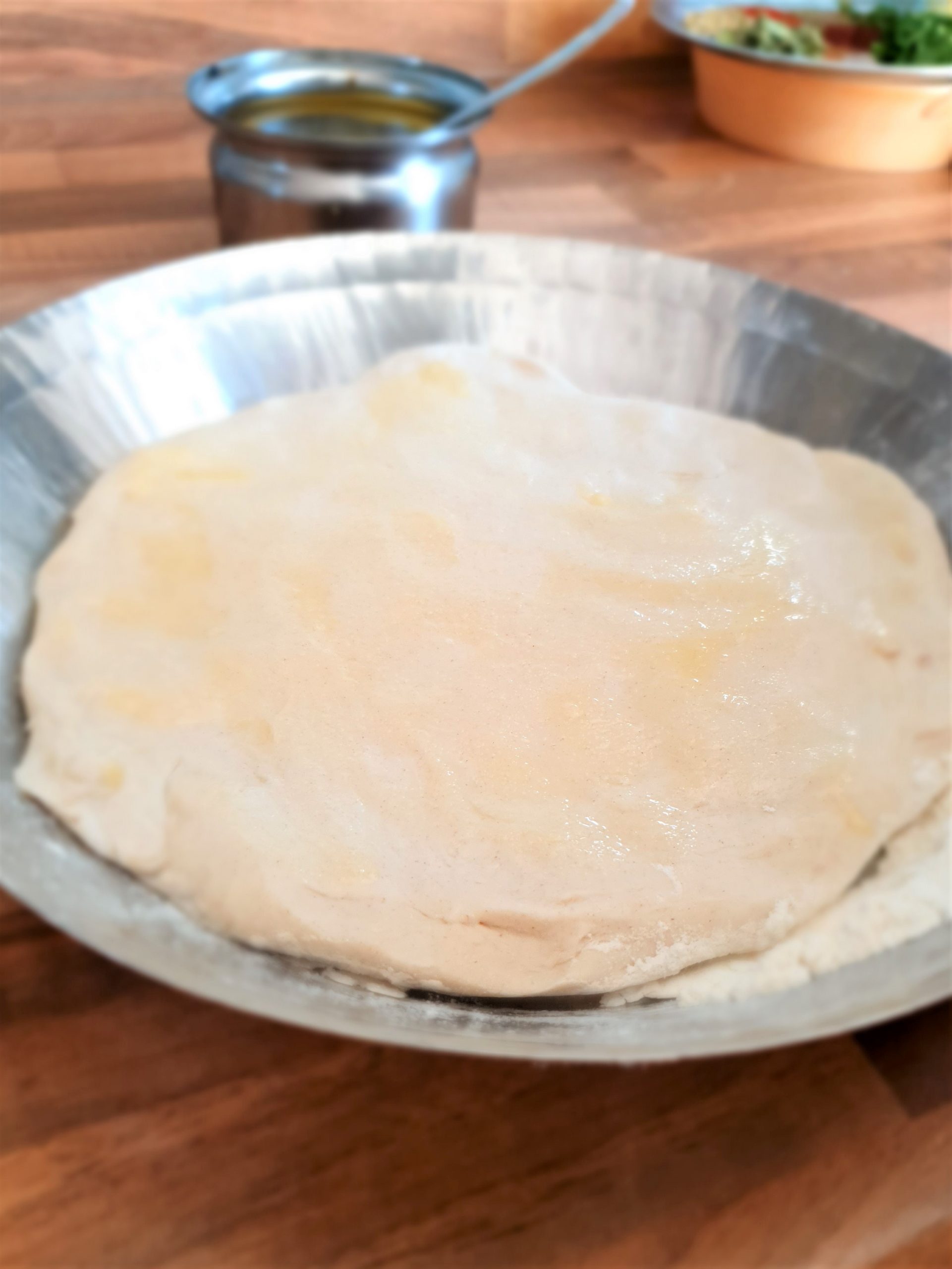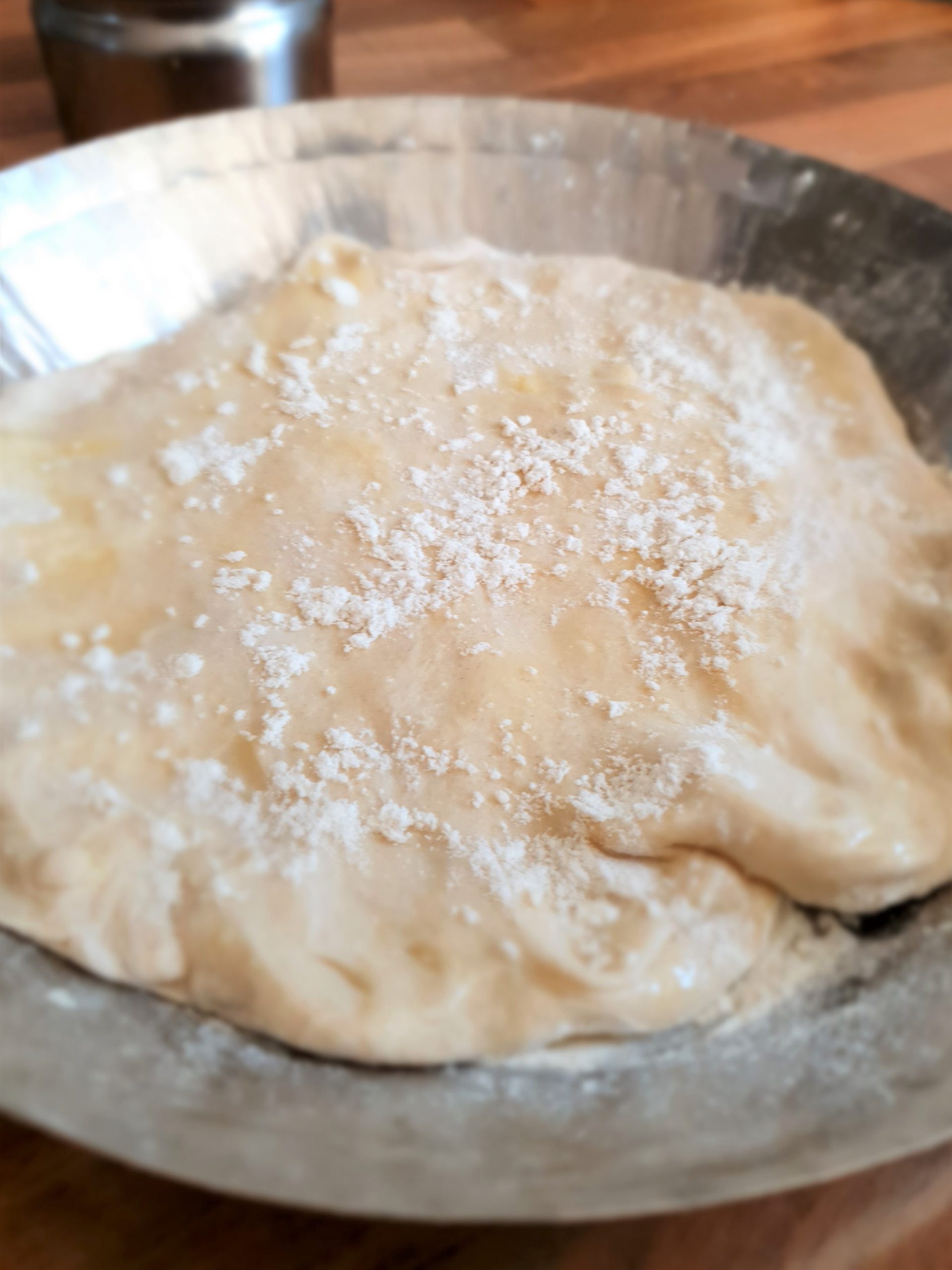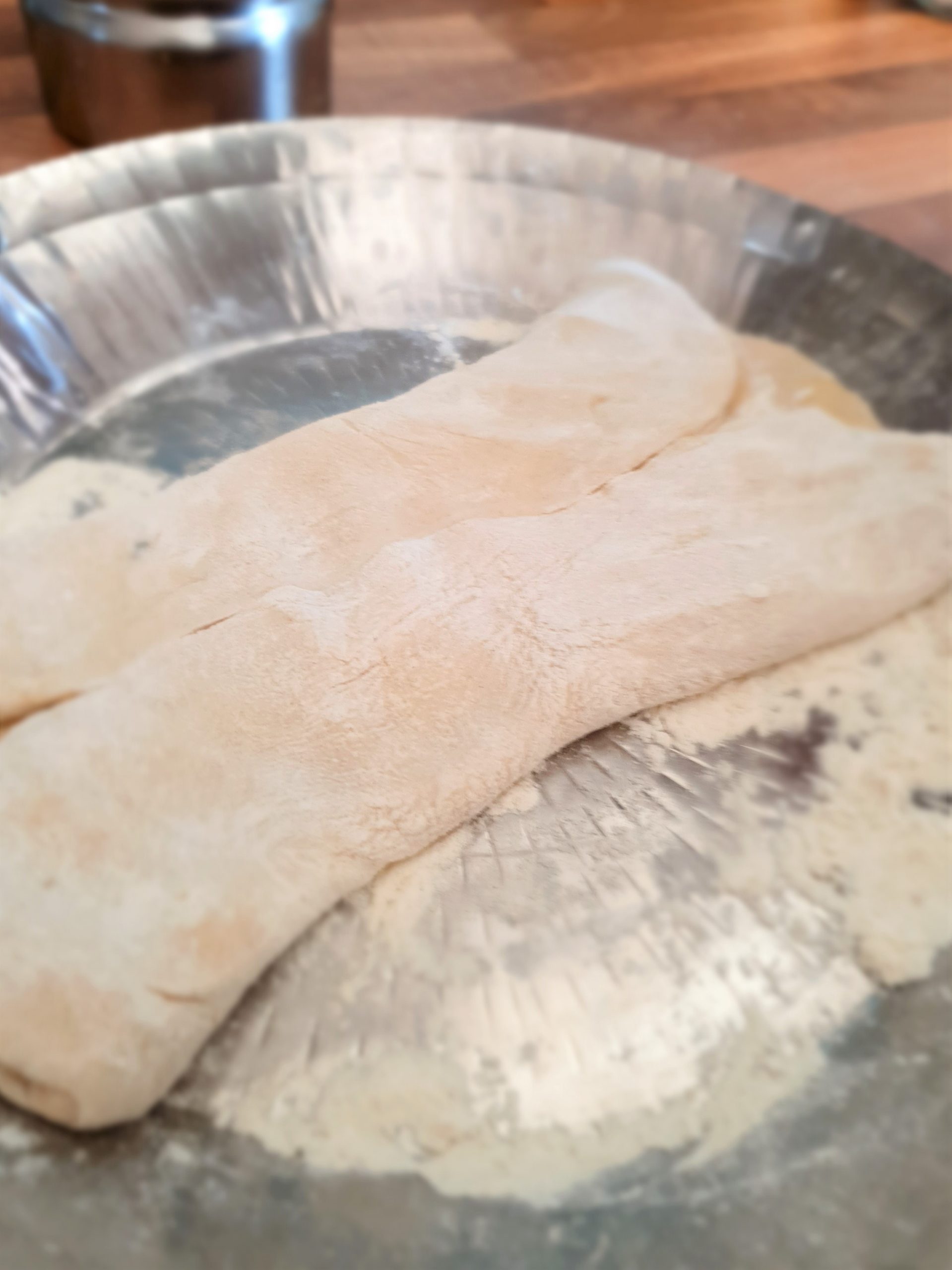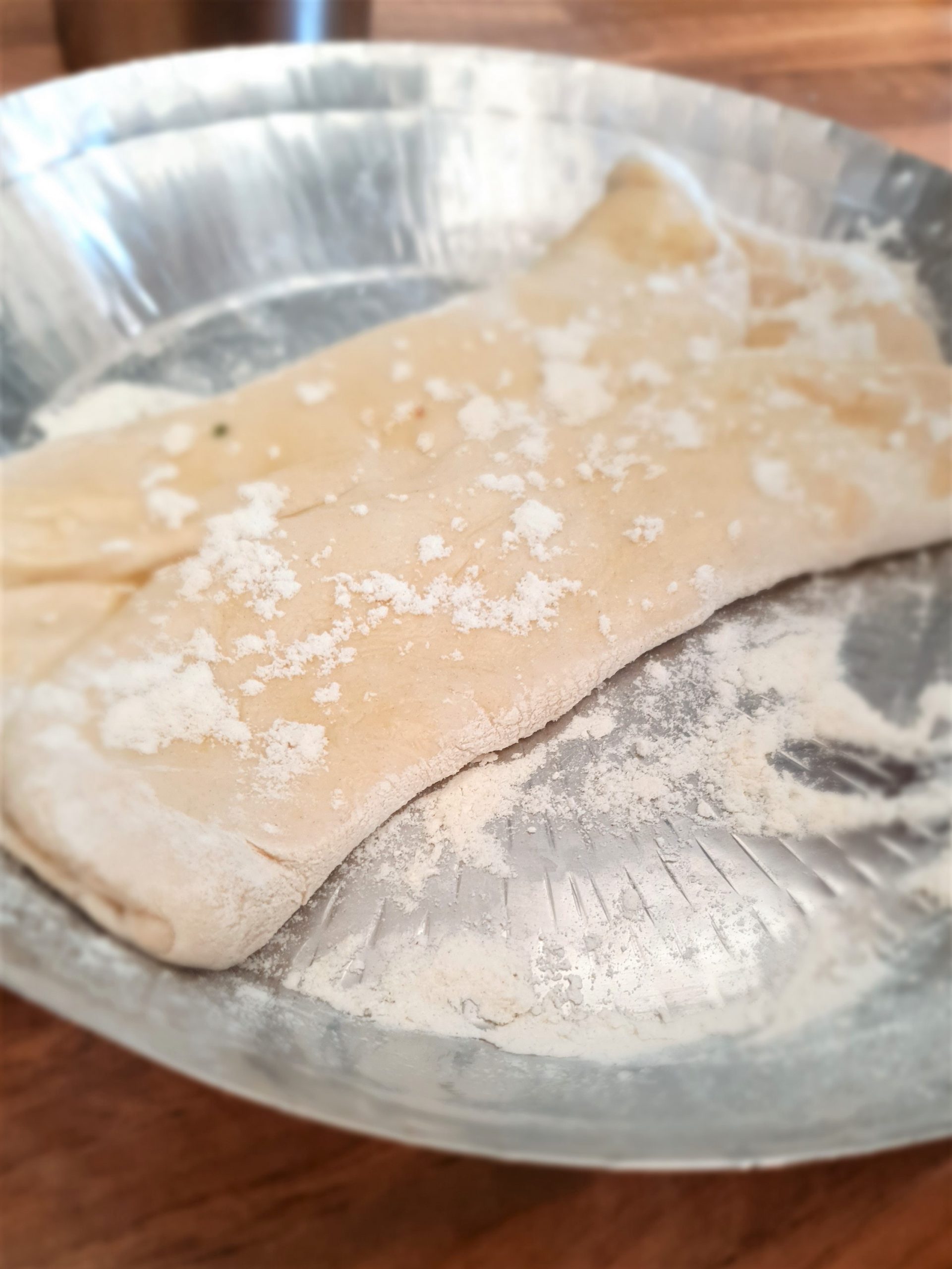 The dough will be very sticky so dust some plain flour to make it manageable to work with. Using your fingers flatten the dough into a rectangle of about 1 cm thickness. 
Spread 1-2 tbsp of ghee/butter on top and sprinkle with some dry flour. 
Fold 1/3rd of the dough inwards lengthwise. Now fold other 1/3rd part of the dough and place it on top. Now press the folded dough with your fingers and flatten it slightly.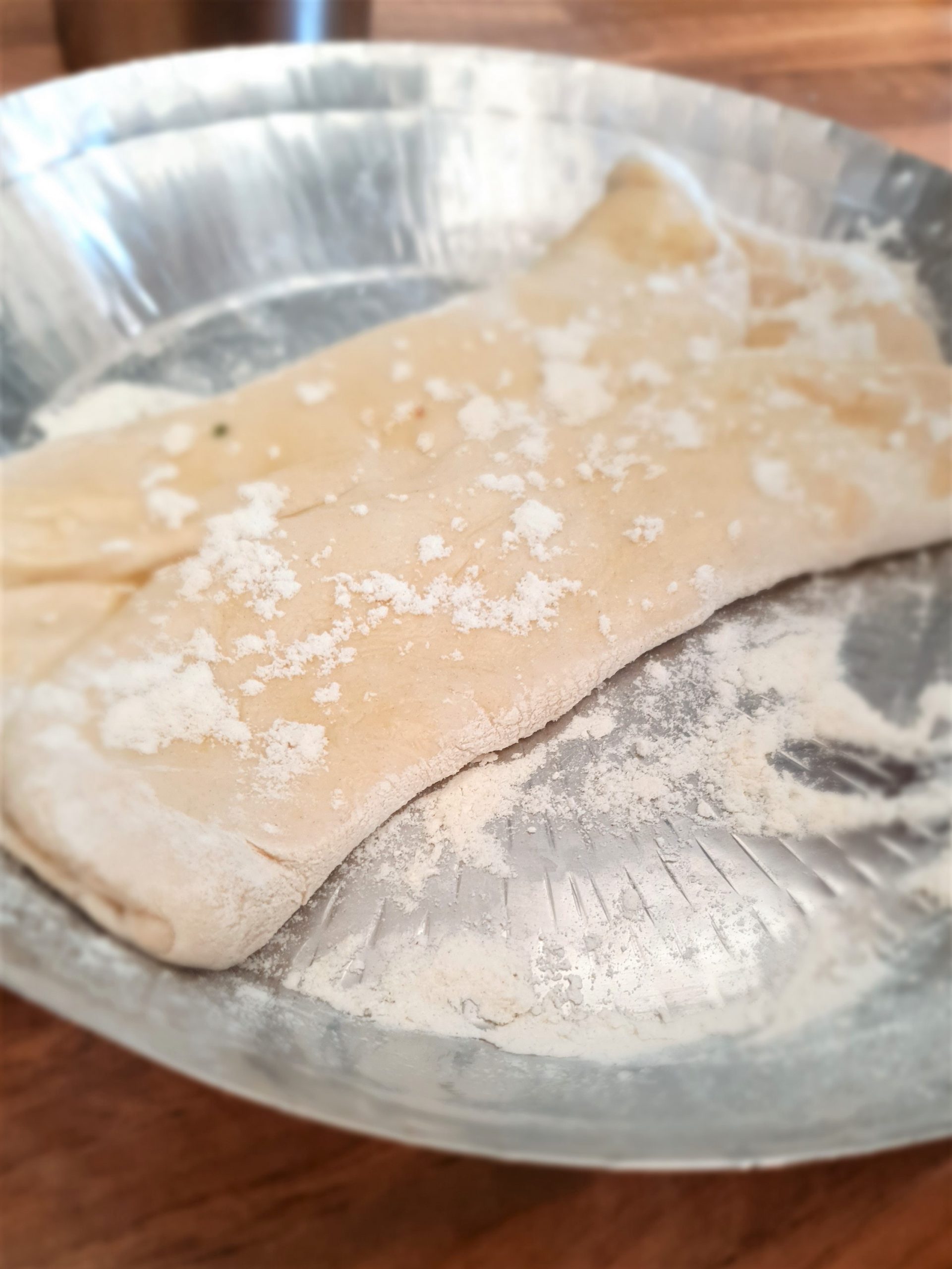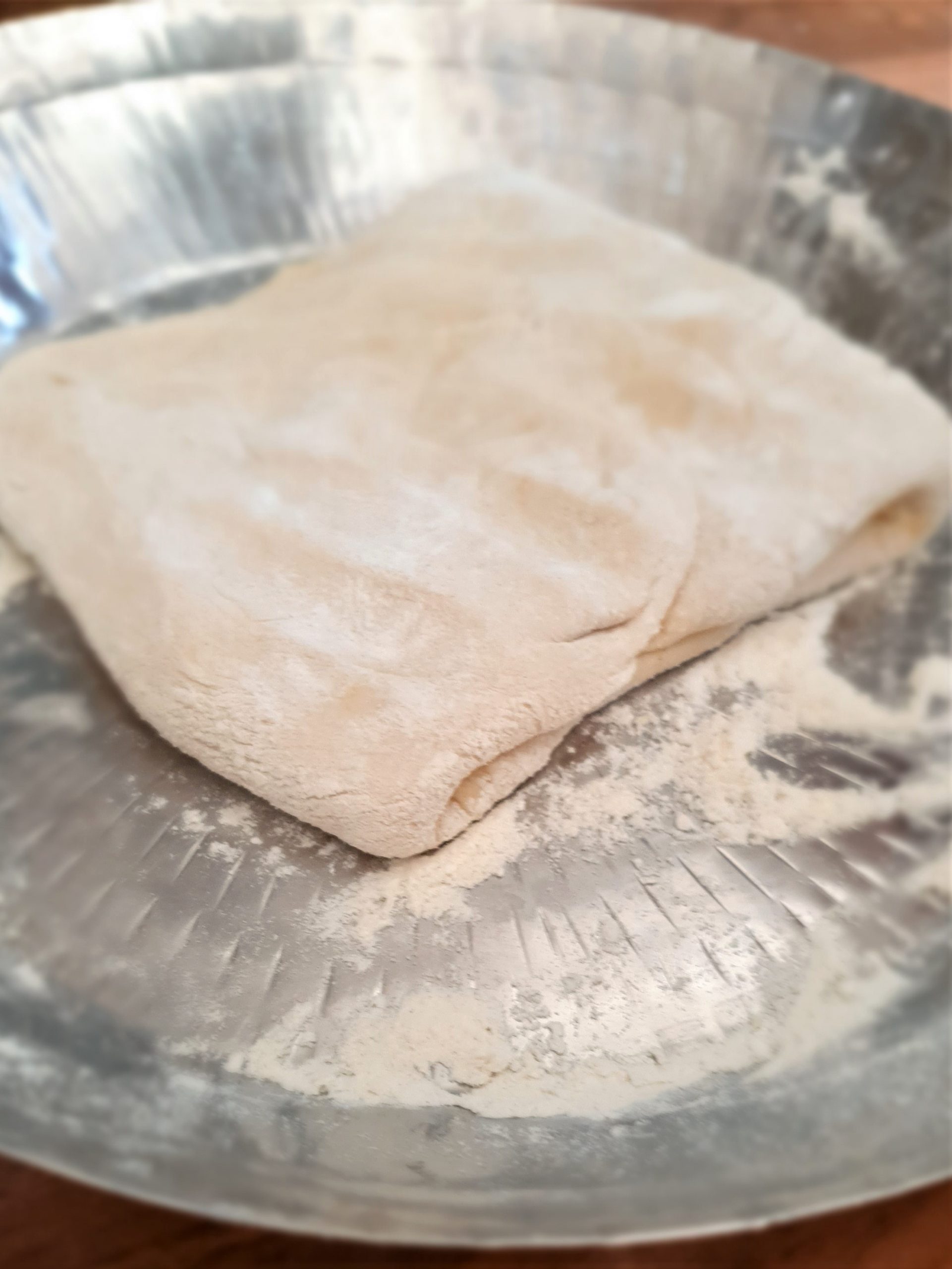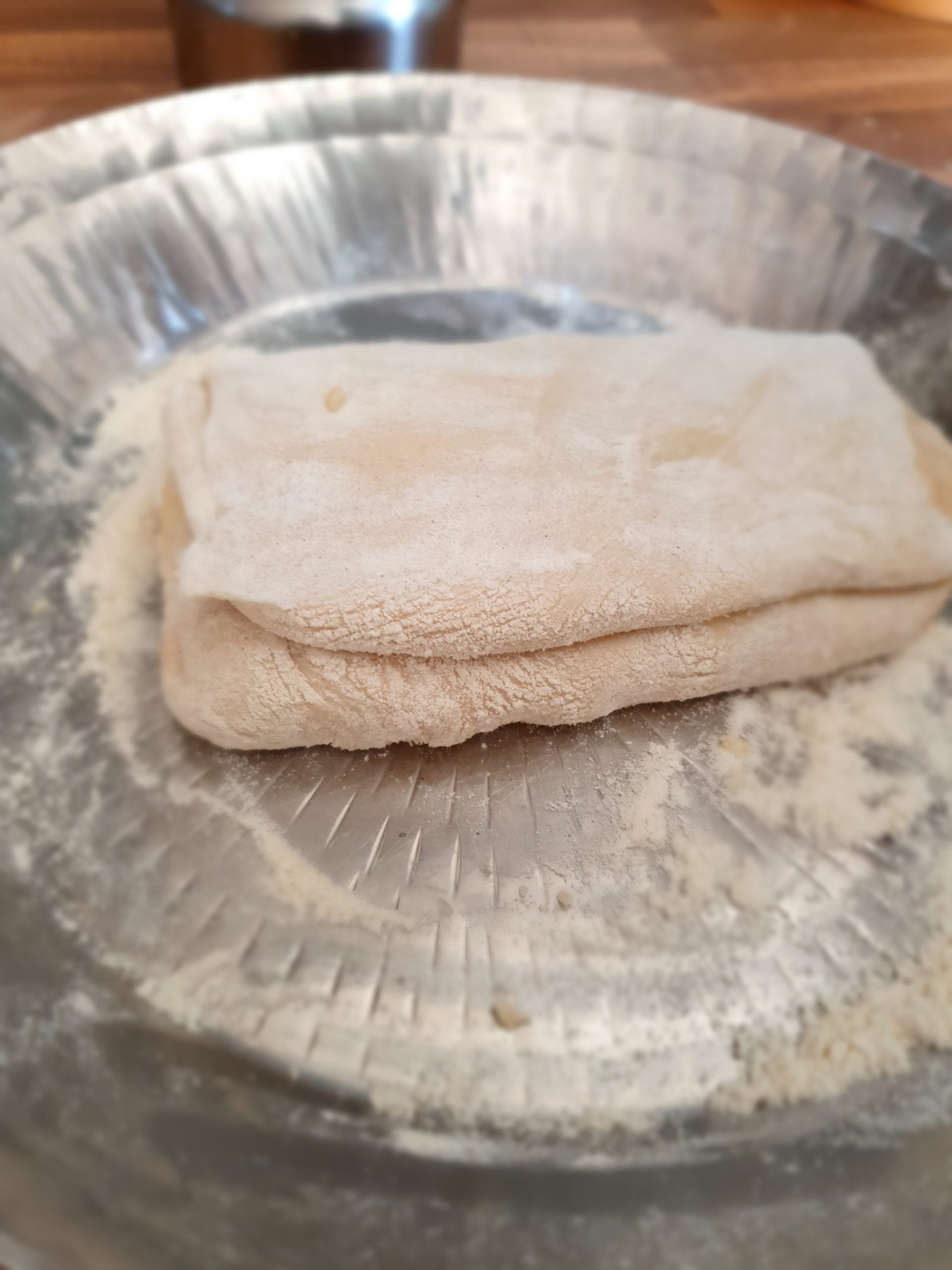 Spread 1 tbsp of ghee/butter on top and sprinkle with some more dry flour and fold it again ( 1/3 part in from left and then right- like a book cover).
Cover and set it aside in fridge/cool place for butter/ghee to solidify. (30min approx) 
Once done, divide the dough into 6-8 smaller portions. Fold and roll them into balls.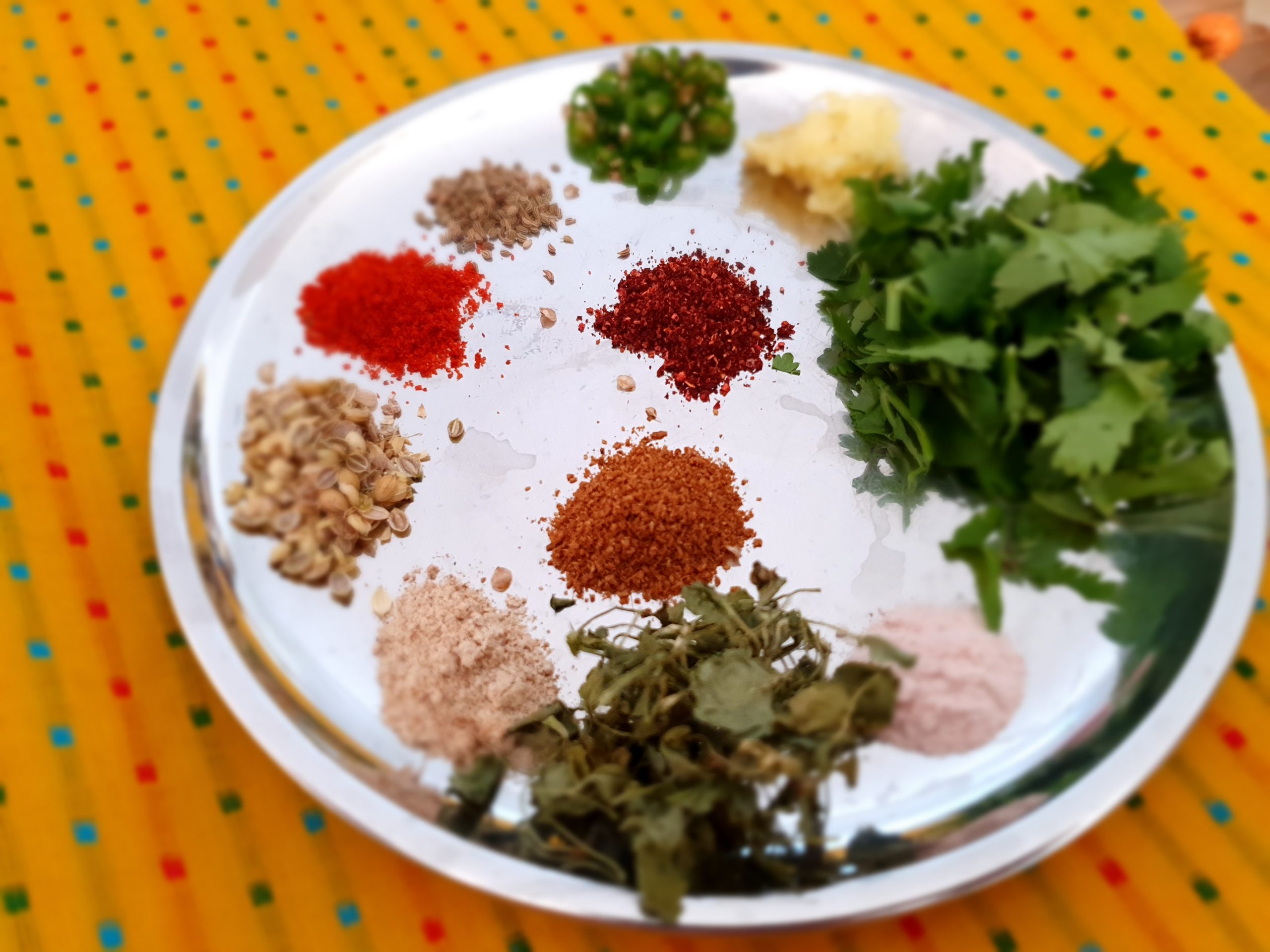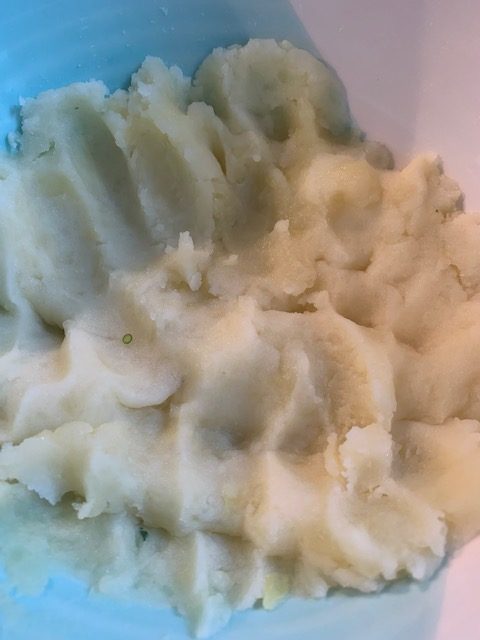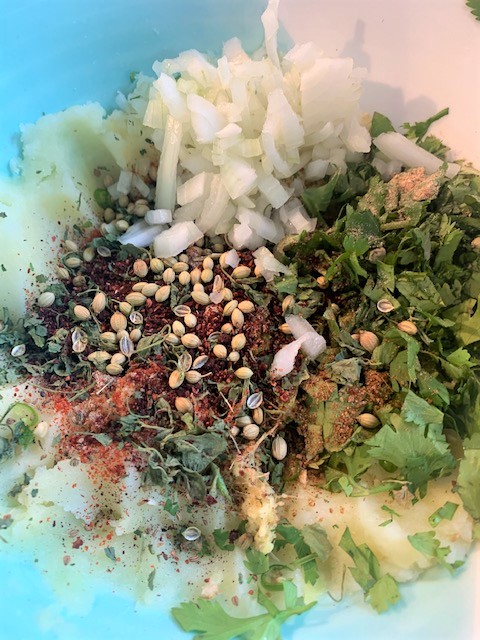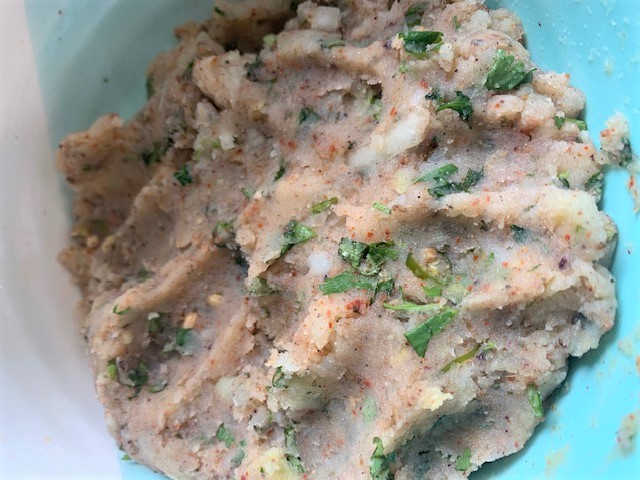 Potato stuffing 
In a large mixing bowl mix all the ingredients together and divide into 6-8 pieces.  Because there is onion and salt in this stuffing, do not make it in advance or else the onions will leave water making it hard to stuff. If you need to make it in advance, then I would suggest keep onions and salt aside to mix at the last minute.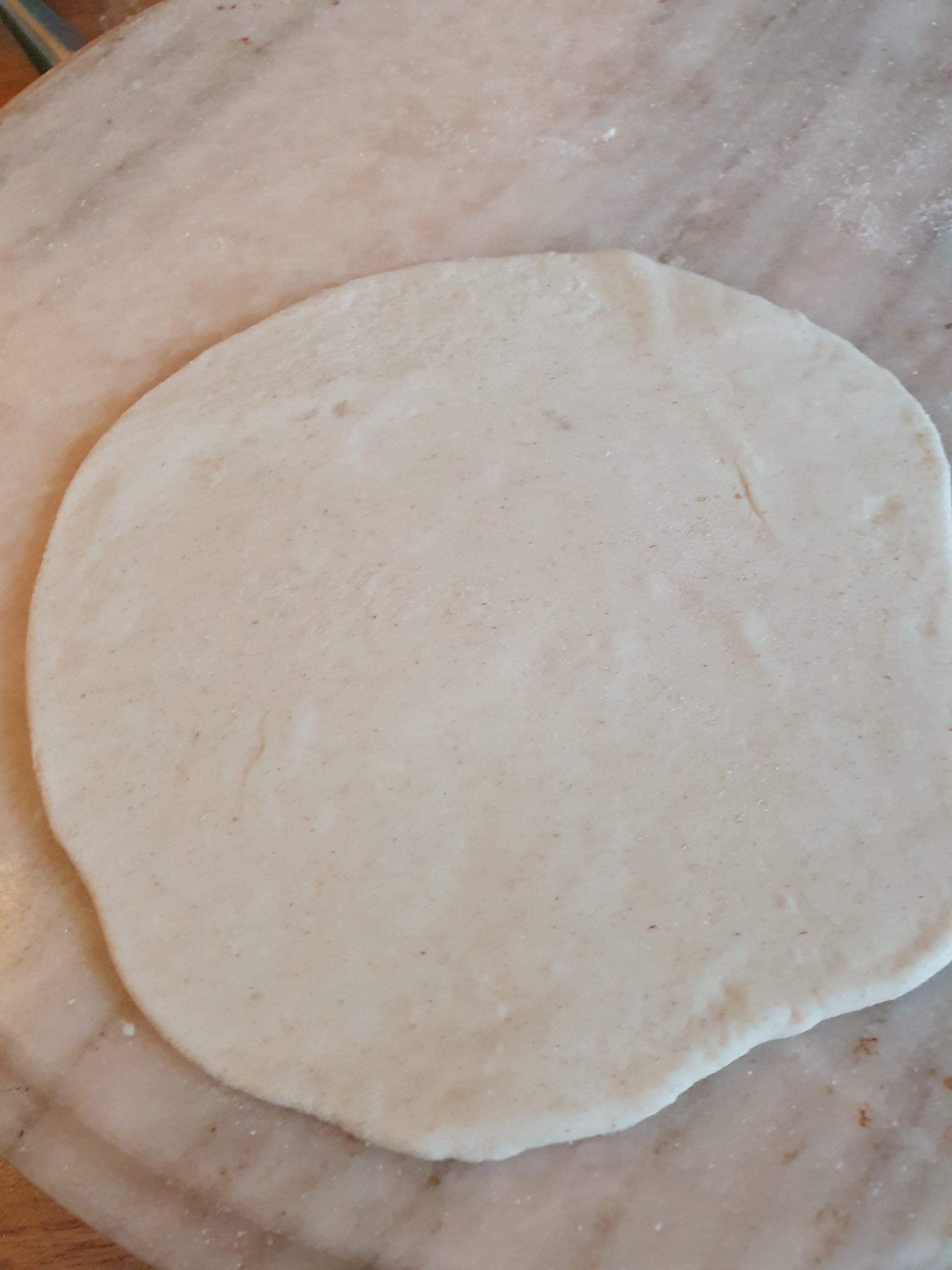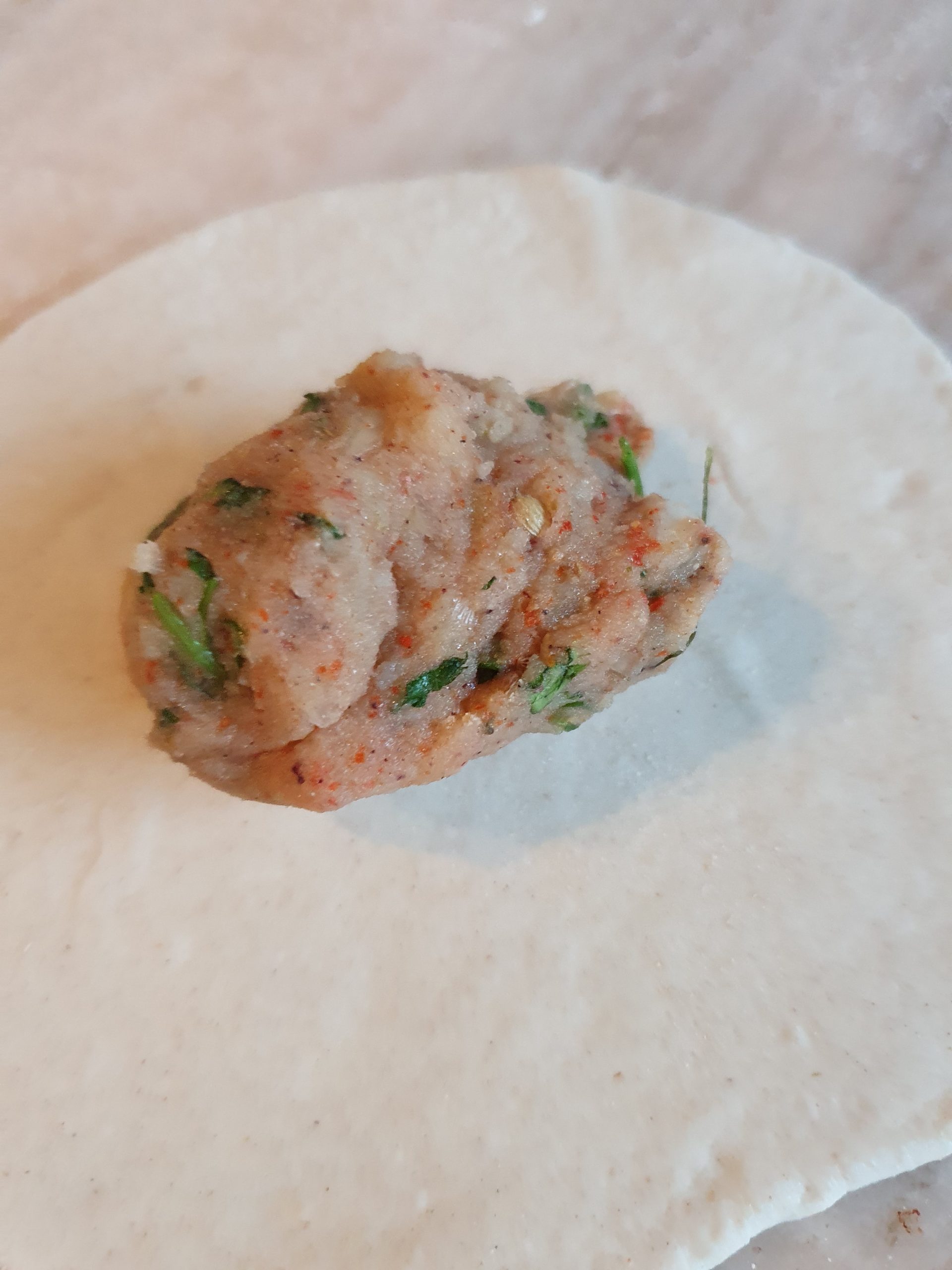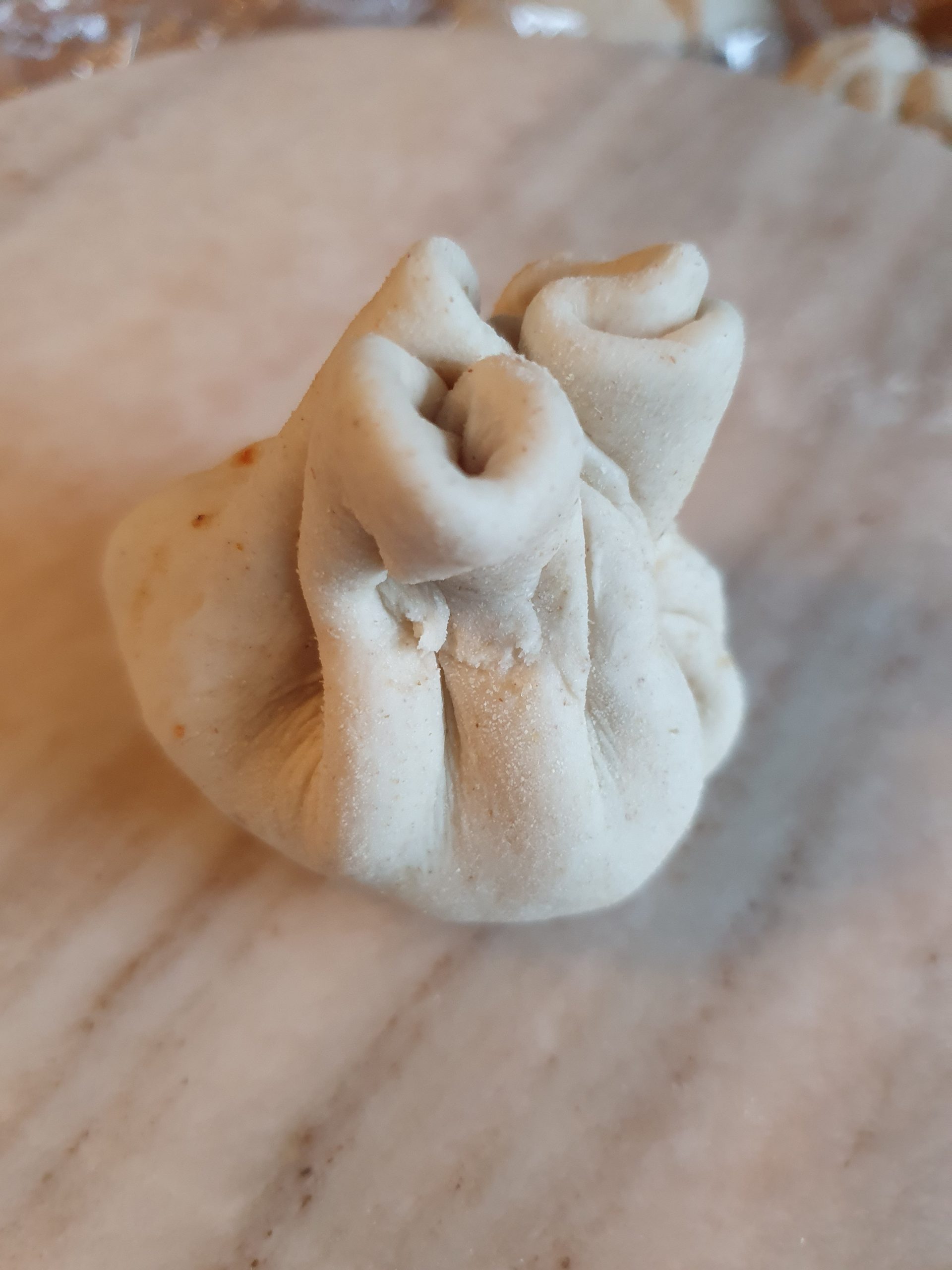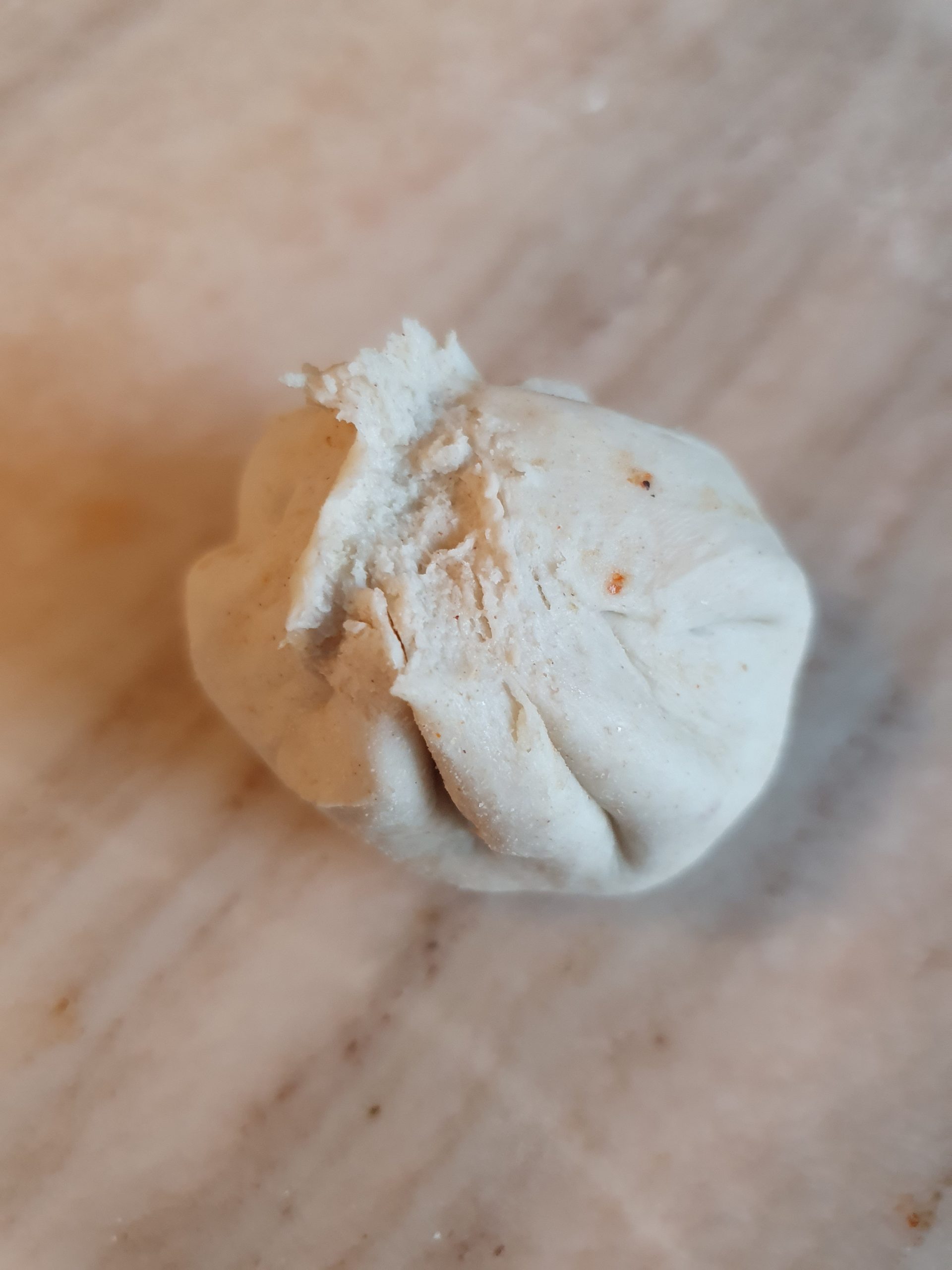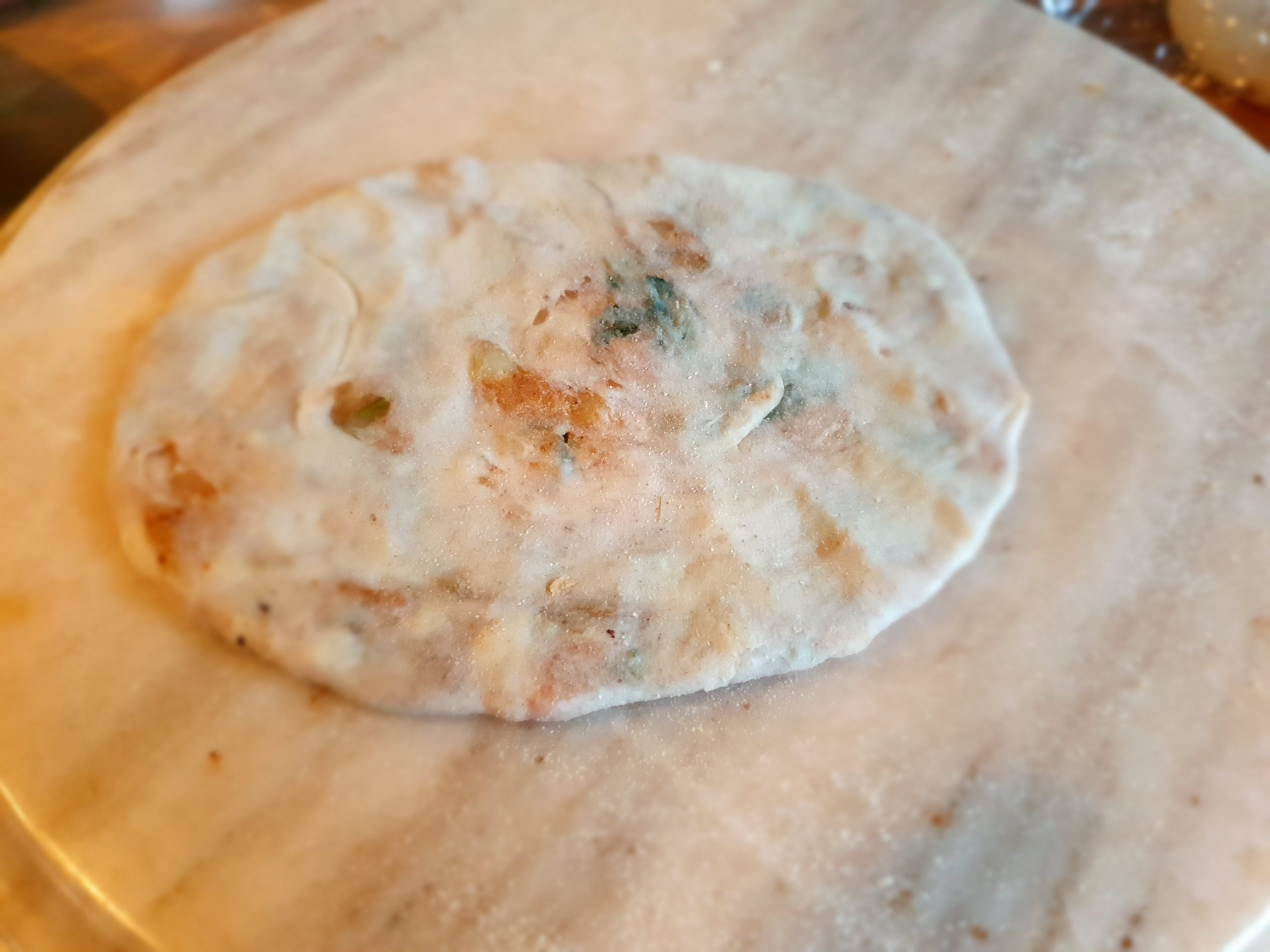 To Make Kulcha
Take one portion of the dough and flatten it into 4 inch circle using fingers or rolling pin.  Take 1 portion of filling and place it in the center. Bring together all the sides and start pleating the dough. Seal the dough ball by pinching.  Dust the ball with some plain flour.  Press with your fingers/ or using a rolling pin to flatten the dough ball. (if you want you can put some finely chopped coriander or mint on top before rolling). Roll the dough again into a 5-6 inch using your fingers or a rolling pin.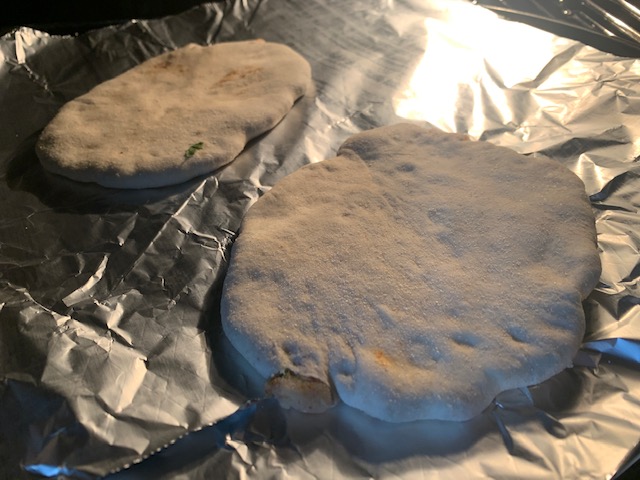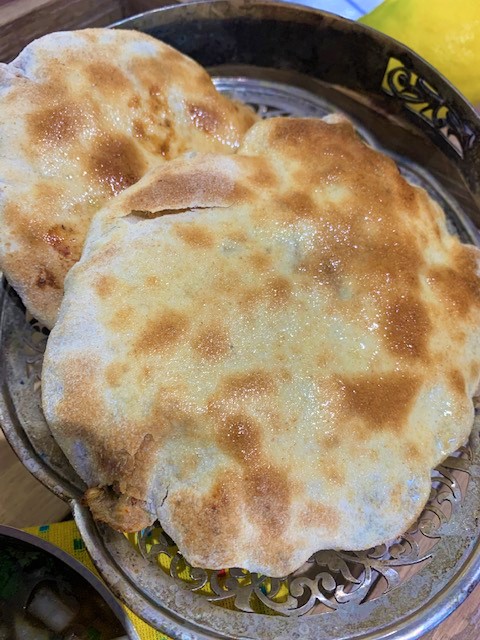 Bake in oven 
Preheat your oven to 240

°C/ 450°F.

 

Line a baking 

tray

with the parchment paper/aluminium foil. 

Arrange roll

ed 

kulchas

 on the prepared tray

.

 

Bake them in a preheated oven for about 8-10 minutes or until 

kulchas

 are golden brown in color. 

Flip them half way to cook both sides evenly. 

 

Remove them from the oven

.

 

Kulcha

 is ready to serve hot. Top it up with butter or Ghee and serve with your choice of curry.

 (At this point, you can also crush the 

kulcha

 lightly between your palms. Crushing the 

kulcha

 will open up the layers. This step is optional.)